Deep Ocean Blog has wonderful challenges every few weeks and I was blessed with a request to be a guest. So here is a little spooky fun for the challenge "More Than Two Colours". As I am a fan of my copics this was not much of a challenge but rather a treat! Be sure and join in, or at least check out the amazing talent on this blog!! I highly recommend!!!! Read below for more information on image and colors.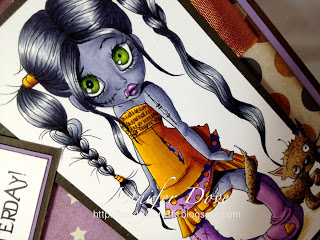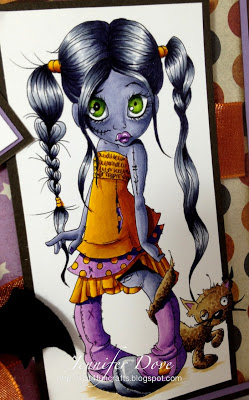 Saturated Canary
makes my heart all warm and fuzzy! Here is a oh-so-cute
little Zombie
that I enjoyed coloring. Just in time for the spooky month of October. Although she will sit on my shelf year round, cause I LOVE her THAT much! I just went and saw that Saturated Canary is having a challenge on their blog (how convenient for me). The Challenge is "B's", at least two things that start with "B"…hows this…Bats, Black, Bow….and….Been Dead 🙂 I think that covers it!
Colors used are…get ready…..
Copics: BV20 23 25 29 skin, 100 C1 3 5 7 BV29 hair/shoes, V12 15 17 BV08 shoes/skirt, Y19 YR24 E08 dress/heart, YG03 63 67 eyes, E55 57 79 Kitty
Today was an amazing day to color…I needed that!!