I don't often have blog candy to share with you but seeing as we are all getting ready to give gifts to all our love ones I thought this would be a great time for you to have a chance to get something for yourself. The Blog Candy I have been given to give to you is from Stampendous. You will absolutely adore this image this year and years to come. This is
Saint Nick
. Here is a card I made using him. You will receive this stamp (not the card) and a sentiment to go with it. What do you have to do to get him? Look below…
All you have to do is become a follower of my blog and post a comment in this post. Be sure and leave an email address or come back by next saturday to see if you are a winner. I appreciate all of you a "whole bunch" and hope your Christmas is full of peace!
…and don't forget…..
This is a reminder that their is a fun challenge going on over at Stampendous this month. All you have to do is create something using at least 3 of the colors brown, cream, pink and gold. Here is my new card I whipped up for the challenge using the Stampendous Jumbo Snowflakes (check with your local stores to find this stamp) I embossed with Stampendous Clear Bark embossing powder (my Favorite). And yes, their is 6 layers of paper…and weighs a ton!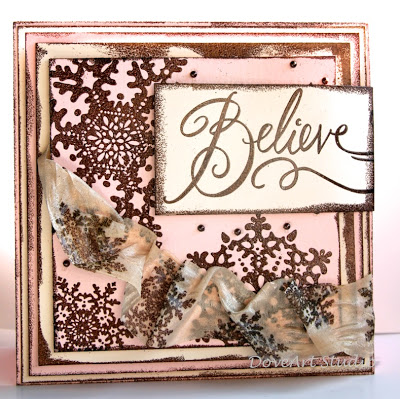 This challenge runs through January 5th @11:59pm EST and is open to the US. The prize is Amore Frame Perfectly Clear set. Be sure and use the little linky button to link to your project so Stampendous can find you. Some of the other team member have candy too so go a hoppin' to see what they created too THEIR CARDS AND PROJECTS GO LIVE IN THE MORNING (sorry, posted a day early)
Stampendous Impressions –http://stampendousblog.wordpress.com
Taylor Usry – http://taylorusry.blogspot.com/
Pam Hornschu – http://1pamperedstamper.blogspot.com
WendyJordan – http://www.papertherapy-wendy.blogspot.com
Melinda Gleissner – http://mynoteworthycards.blogspot.com/
Suzanne Czosek – http://www.suzzstampingspot.blogspot.com/
Cyndi Bundy — http://www.scrappychickcyndi.blogspot.com/
Kristine Reynolds — http://stampingandscrapingincalifornia.blogspot.com/
Janelle Stollfus — http://rainpuddlesdesign.blogspot.com/
Jennifer Ingle–http://www.justjingle.blogspot.com/
Jennie Black http://Jenniebstampin.blogspot.com
Wendy Price http://paperinkandsmiles.blogspot.com/
document.write('