For all you Dustin Pike fans (and you know i am one of them!) Its challenge time again. You can go to his blog HERE and get the details…but lets just say "Stars and Stripes". You can get the image in his halloween set 109 images for just 13 dollars. He must be off his rocker lately!
I had a blast doing this quick card. I have been working on doing "power" coloring where the card assembly takes longer then the coloring…what a concept! I am training myself to just "get the ink down and not be so picky…geesh, hard one for me but fantastic practice.
Here is what I made for the Challenge inspiration using "power coloring".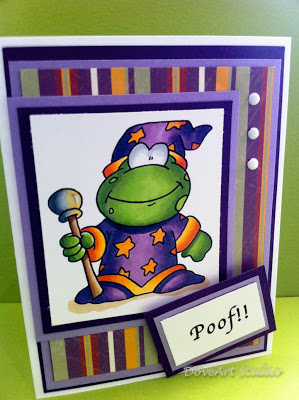 Copics Used: Clothing – BV08 V17 V15, YR18 YR04 Y38
Frog – YG67 YG63 YG25
Wand – C7 C5 C3 C1 Y38 E31 E35 E57