HOP WINNERS
It's time to announce the winners from the amazing blog hop this week! First I'd like to thank everyone who played along with us – the ladies who took the time to contribute a project for the hop, the amazing people who left supportive and encouraging comments on SO many blogs, and last but NOT least our generous sponsors! I'm so thrilled that my little nugget of an idea turned into such a virtual love-fest 🙂

A list was made of all the participants, in no particular order. Then with random.org, 20 numbers* were requested, to give me the blogs to draw winners from.  Those numbers determined which participant's blogs would have a prize winning comment.   Then each of those blogs used random.org to select a winning comment. 

If your name is on this list, please use the GO HERE to Taylor's blog and click on the "email me"  button at the top of her blog to send her a note. In the Subject line, please put: Valentine's Day Hop Winner. In the email, include your contact info, and what prize you've won. Some prizes will be mailed directly to you from the sponsors, some will be emailed to you (in the case of digis). And please be aware, She is away from her computer Friday, so you might not hear from her right away. She is going to give everyone until Sunday night at 6:00 PM EST to claim their prizes, and then she'll draw new winners. That's just over 48 hours 🙂


HOP WINNERS ARE:



Tracey (from Louise Healy's blog) – prize: 5 digi images of the winner's choice from Pink Cat Studio
Ronnie (from Libby Hickson's blog) – prize: 2 Cosmo Cricket 6×6 paper pads from The ScrappyChick Boutique
Terrece (from Sandie Dunne's blog) – prize: 4 images of winner's choice from MelJen's Designs
Dayle (from Berenice Rendon's blog) – prize: 2 digis of winner's choice from Karber Digital Images
Silvia (from Jennifer Dove's blog) – prize: 5 digi's of winner's choice from Di's Digi Downloads
Jan (from Mary Collins's blog) – prize: digi stamp set of choice from Stamp Insanity
Janelle (from Sunghee Chon's blog) – prize: $20 gift certificate to Little Potato House
Erin L (from Wendy Price's blog) – prize: $10 gift certificate to Amber Ink
Allye (from Cathy Wallington's blog) – prize: 4 digi images from Kenny K's Shop
Jessi (from Patricia Hays's blog) – prize: 4 cling rubber stamp from Stampendous (new release)
Victoria (from Maria Levine's blog) – prize: 2 digi's of winner's choice from Pixie Dust Studio
BlackBird (from Tina Kiehn's blog) – prize: Meaning of Love digi set from Chi Chi Memories
Saskia (from Audrey E's blog) – prize: 5 digi images of winner's choice from Paper Pretties
Suzi (from Jessica Fitzgerald's blog) – prize: 2 rubber stamps from Kraftin' Kimmie Stamps
Sharon (from Cat Darling's blog) – prize: Timeless Love acrylic stamp set from Paper Pretties
Stephanie Z (from Lynell Harlow's blog) – prize: Dreamweaver's prize pack
Mobolilu (from Julie Elak's blog) – prize: 5 digi images of winner's choice from Paper Pretties
Velma (from Joyce Martens's blog) – prize: One year general membership to Christian Paper Crafts
Beth (from Taylor Usry's blog – that's me!) – prize: $10 gift certificate to Lizzie Anne Designs
Pen to Paper (from Angelique Nederpel's blog) – prize: 3 digi images from Simply Betty Stamps




Thank you for participating!
Jenn Dove
Welcome to the Valentines Day Blog Hop.  My name is Jennifer Dove.  I am a copic certified teacher, and I LOVE to color.  I am on the design teams of Dustin Pike (doodleDragon Studios), Stampendous, Creative Impressions and TalkAbout Images. I have some fun tutorials if you scroll down and read my other posts.  Welcome to my blog 🙂
I have created something fun for your, just because I love you!  I love the images that Dustin Pike produces.  Be sure and head over to his blog or store to see for yourself!  I made a basket and decorated it using punches and flower dies, buttons and curling grid ribbon from Creative Impressions.  The ribbon curls on its own.  I made a card to go with the basket using another Dustin Pike image.  Sorry, the photo doesn't do it justice.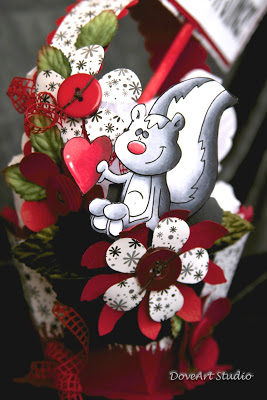 Thank you for all the kind compliments…even though there is an ulterior motive behind them…ha ha….I do love reading them anyway.  And good luck on the hop!
So hope along and leave comments on all the blogs for more chances to win the goodies.  You have until  Thursday, February 17th at 6p, EST to leave your comments.  Winners will be announced on Friday.  I will post here if a winner was drawn from my blog.  If you get stuck along the way…just skip that blog on hop on….we are due to have a few hiccups with that many people 🙂  HAVE FUN!