Everyone needs a little fairy tale in their lives right.  Well these images totally rock my world.  Although I am not much of a pink person, these screamed pink. The "full of fun" illustrator Dustin Pike has done it again with his creative magic. This set contains a castle, shoe on a pillow, dragon with princess, dragon with knight, dragon, Rapunzel with castle, Wizard, dwarf and more…
This is how the story goes…
This castle was owned by a beautiful princess.  One very dark day the pink dragon attacked the castle and took over the castle and claimed it as his own…and the princess ran away in fright.  But not to worry, along came a very handsome prince and he "took out" the pink dragon.  The princess heard the news and returned back to her castle where she fell in love with the handsome prince…and they lived happily ever after.  The End.
Here is a little coloring for inspiration.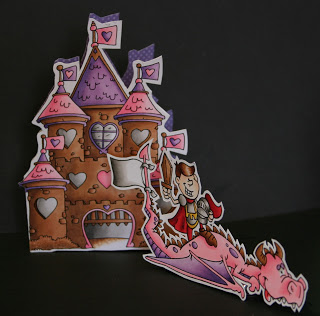 I have a little niece that is going to be calling me shortly as soon as she sees this image….right Olivia.  And of course my nephew Little Jake is gonna want the dragon slayer, because he is a little dragon slayer.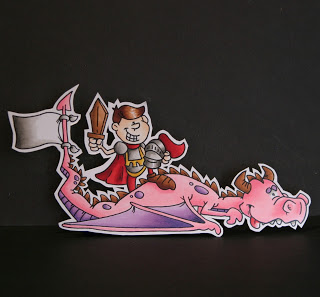 Copics used:  E33, E35, E57, RV13, RV21, RV23, V17, V15, V12, R59, R46, R35, W1, W3, W5, W7, YR15, E50, E51, E00, E11