…Over The next few months I am going to post about this project, but I am posting as I go which means you wont see the end result for a while. I will give you a hint though…the end result is a wedding cake. So, here is the start of the project.


I started with a template for a cake piece. This template from Mirkwood designs should do the trick. I had to adjust the template so I had 3 sizes. I needed 12 of each size for my cake, but you will have to figure out how many your need depending on the size of each layer. I cut cardstock, scored, folded and glued each piece together. (on this one I cut them all out of 1 color, then changed my mind and wanted 3 colors so I covered the outside edge with cardstock…and painted the top to match). Once I had all cake pieces done, I adhered them together to form 3 separate tiers.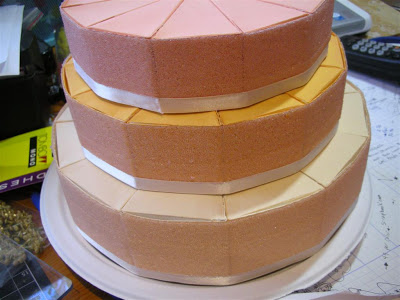 I then covered the outside edge and exposed top with an Adhesive sheet (see photo). Then I rubbed the tiers I had covered with the Adhesive sheet, in MICRO BEADS. I used the Adhesive sheet to tape a ribbon on each tier. This is the end result of the first part. Now to find the time to decorate the cake….MMMMMMMM, this almost looks edible, dont you think so?