Colored up another fun image from the Friends Like Ewe set.  Once again it worked so well with the new Gullivers Garden paper packet.  The softness of the paper allow for the image to still pop off the card, but in this instance I "popped" it in.  I thought creating a window box and placing the lamb inside would help to create a fun little feature.
If you haven't checked out the adorable lion and lamb set, be sure to take a look at the Whimsy release
Creating this Card:
I used two layer dies for this card from the same Wonky Stitched Rectangles die set.  The outer white layer was using the largest of the dies, and the window was created using one of the smaller ones.  Making a window is as easy as that!
Friend like You clear stamp

Gullivers Garden slimline paper packet

Wonky Stitched Rectangles die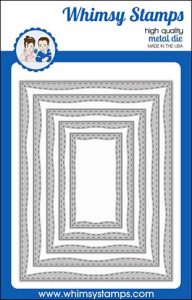 Awesome Words die

OLO cOLOrs
W-G1 W-G3 W-G5 W-G7 R0.1
OR7.1 OR7.2 OR7.4 OR7.6
YG03 YG17 YG67 Copic
Y23 OR2.2 OR2.4
C1 C3 C5 Copic
Copic Options
W1 W3 W5 W7 R11
E31 E35 E57
Y15 Y38 YR68
YG03 YG17 YG67
C1 C3 C5