I AM BACK!  After 4 months, hosting my Jenn Dove's Boot Camp coloring events, I can get back to creating cards for you.  What a whirlwind it has been.  Get ready for some fun card samples coming more frequently. If you are new to my bog, be sure you have signed up to get emails for when I post something new.
I am currently living at 9600 foot elevation in an area of Colorado with over 5 foot of snow.  When we traveled back to Arizona for my events I left most my supplies in a shed, where I would have access upon my return.  Well, I forgot I was going to have to dig out the shed.  I am currently working with a very "bare-bones" amount of supplies.  I will be coloring all my background for a bit.  It actually is a great way to expand my creativity, (but I miss my background stamps, Catherine Pooler ink pads…and score board).
Today I am featuring one of the stamps (or two) that we colored in my event this fall.
Creating this Card
I used a fun couple stamps for this card.  These stamps also have optional outline dies too.  When creating the background I colored a piece of cardstock with my warm gray Olo markers.  Once colored I used the Kinetic Straight Waves die to separate it into sections.  This was adhered to the card base.  The image was colored and hand cut, then adhered to the card base.  I die cut the Slurp Word die about 4 times and colored the top layer with my markers, and then layered it on white.  Yes, I added water drops (taught in Jenn Doves Boot Camp) on the letters to compliment the shark water drops.  The words were popped up, and I added the water splash to the outer edges, along with White Nuvo Drops.
You will find all the fun products below with affiliate links to Whimsy Stamps.  Thank you all for your continued support.
Slurp Word die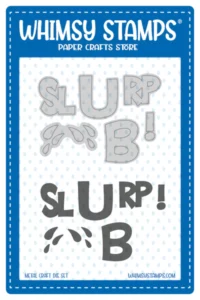 Lookin Shark clear stamps
Lookin Shark outline die
Lookin Shark Elements clear stamps
Lookin Shark Elements outline die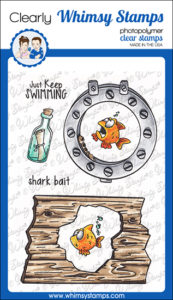 Kinetic Straight Waves die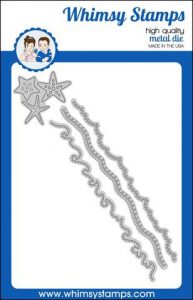 OLO cOLOrs
Order OLOs HERE and get 10% off at checkout.
Shark C-G1, 3, 5, 7, 9
R5.5
Wood OR3.4, 3.7. 3.8
Wood W-G5, 7