If you were wanting to get the new Fluff Butt clear stamp set, I am hoppy to say they are on order.  If you want to be notified of their arrival head over to the Whimsy Stamp store and click on "notify me" tab here.  They should be back in stock soon.  This was a very popular set, and sold out quickly.  If you were able to get it ordered then here is a little inspiration too get you going.
All the products I used on this card are listed below with quick links.  If you do not know already these links (and the ones on my sidebar, are usually affiliate links, and if you shop the stores using these links I get a small kickback at no additional cost to you.  For those that shop from my site, I want you to know I really appreciate you taking the time to do this as it helps me continue to provide inspiration, as well as a little payment for the hard work in creating posts.  All the products I use are from smaller companies that I love, support and appreciate.  Once you click on just one link to that store the rest of the shopping within the store is all credited on that day.  These links you use help me to be able keep on going, so thank you from the bottom of my heart.
Did you know I even have an Amazon link in the upper right hand corner of my blog?   If you ever shop Amazon, wether the products be large or small, I get a tiny kickback from them too.  Again, thank you bunches!
Creating the Background:
I wanted to share a couple of my favorite background stamps.  I think I have shared this before, but just in case I didn't, here you go.  I like to make my own background papers to go with my images, and using the Criss Cross and Tartan Plaid backgrounds has to be a favorite.  I stamped the Tartan Plaid onto white paper using my Catherine Pooler Ink in the Be Mine pink, and then stamped over it with the Criss Cross rubber stamp in the It's A Boy blue stamp pad.    I just love this rubber stamp combo, as it stamps so nicely.  What do you think.  You can get so many looks from just these two stamps.  I hope you enjoyed this little bit of inspiration.
Fluff Butt clear stamp set
Fluff Butt outline die
WTF? word and shadow die

Tartan Plaid rubber stamp

Criss Cross Gingham rubber stamp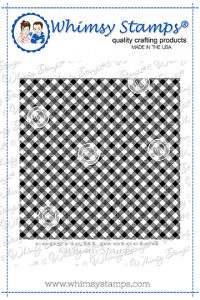 Copics:
B0000 B00 B02
C1 C3 C5