Like zombies in an hourglass…so are the days of our lives.  So if you are a fan of Halloween, then you are going to want to snag up these new products as quick as possible, because time's a ticken'.  If you are not a fan of Halloween, you still will want the Hour Glass die set, because it is SO cool, and multipurpose!
For this card I wanted the sides of the hourglass to be see-through, so I didn't put a full panel on the back of the card, just kept it the hourglass shape.  The majority of this card is all stamps and dies, and I shared the details below so you can duplicate it.
Creating this Card:
For this card I die cut two white pieces of cardstock to create the hour glass grin the new Slimline Hour Glass die.  The top and bottom, as well as the sides were die cut using black cardstock.  The next thing was to decorate the inside.
Using black cardstock I die cut the trees and haunted house from the Haunted Graveyard die set.  These pieces were adhered inside the hour glass.  Next was to stamp the zombies with black ink from the Zombie Party clear stamps.  You may also want to purchase the outline dies for the stamps.  I added the "sand drip" from the Hour Glass dies to the top portion, over the bottom of the trees.
Wanting a little more dimension, I decided to color the edges of the hour glass using my markers.
Hour Glass Slimline die set
Haunted Graveyard die set
Zombie Party clear stamp set
Zombie Party outline die set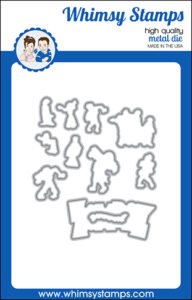 Copics – C1 C3 C5