I really enjoyed playing with these fun products from La La Land Crafts.  I wanted to give the impression of a cow jumping over the moon, and so I created a moon using a circle die.  Of course a moon isn't enough without some stars, so I played around with a fun star stencil to get the effect you see here.  You can find more details below.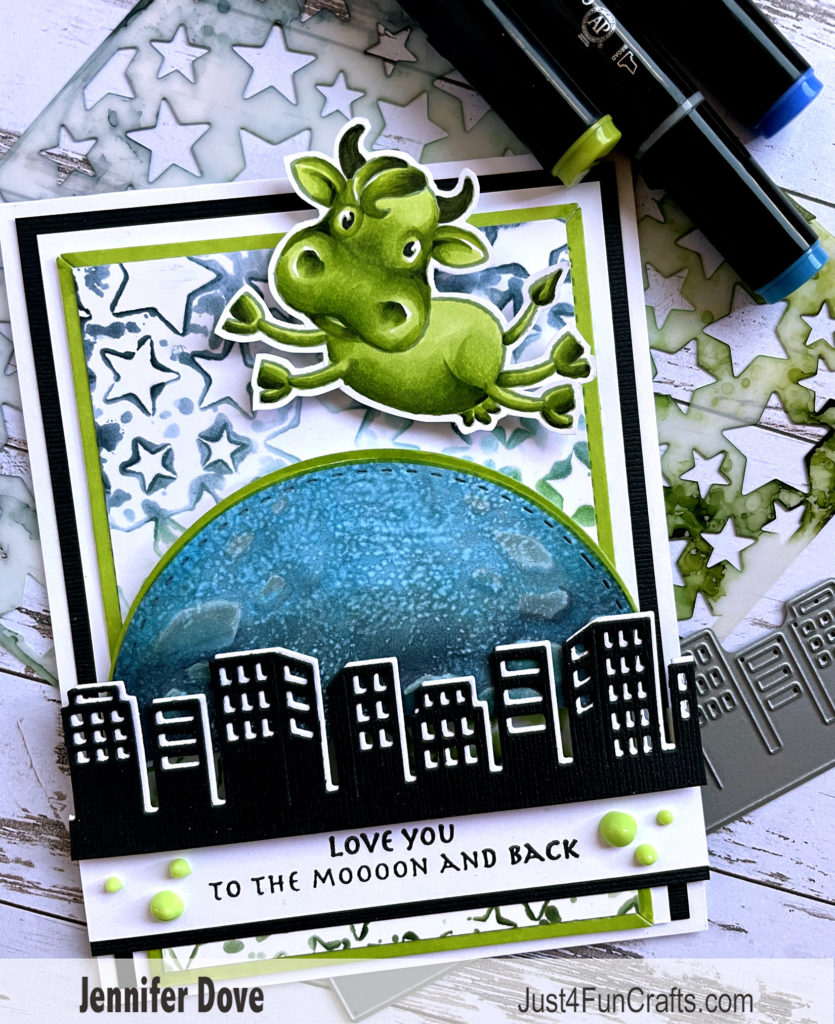 Creating this Card:
Why color a "normal" cow when you can color it green?  For this card I chose to use my Sketchmarker Brush Pro alcohol markers.  I posted the colors below.  I really do like this color combination that gives the nice contrast of the greens.  Remember I have a coupon code DOVE15 for 15% off these markers, but it expires on July 15th.  You can find them HERE.
Let's talk about this fun card and how I achieved the look of the background.  I wanted to use the stencil to create stars, but didn't really want solid stars as it would be too busy for this card.  I chose to use the stencil more like a stamp.  After putting different color alcohol ink all over the stencil, you can do this by using the refills, coloring directly on the stencil, or airbrushing it, I spritzed it with 91% rubbing alcohol.  This allows the alcohol ink to pool up on the stencil.  Next I placed the white paper directly on the stencil to soak up the ink.  It really is quite simple.  For this card I used the stencil from La La Land Crafts called Celebration.  This is a layering stencil and comes with two different stencils in the packet.
Once the background was created and placed on the card, and the cow from the Holy Cow clear stamp set was colored and hand cut out and popped up, I created the moon.  Using the Double Stitched Circle die, I die cut one of the circles in white cardstock, and then colored it with my markers.  This layer was placed directly on the card front, and the cool Skyline Border die was then popped up on top.  I added the fun sentiment from the stamp set to finish it up.
Holy Cow clear stamp set

Celebration Layering Stencils
Double Stitched circle die
Sketchmarker Brush Pro alcohol markers
MarkerUniverse.com
Coupon code DOVE15 for 15% OFF anything through the website until July 15th, 2021
G30 G31 G32 G33
BG40 BG41 BG42 B31 B14