Faces aren't just for people anymore…how about this fun flower?  So easy, and I bet you have some products sitting around to create something like this too.  This was created with a newly released stamp set from Whimsy Stamps.
Creating this card:
Okay get ready to say "oh cool" while you check out the products that went into creating this card.  Who would have thought!   This faces stamp set was designed to be an addition to the current Polka Dot Pal stamp sets that are available from Whimsy, or as you can see, they can also be used for something like this card.
The card-front was created by die cutting a stitched circle, and them stamping one of the faces on it.  By coloring the face in yellow, it gives a fun color-pop to the card.  I needed some petals, so I used the different size leaves from the All Seasons Tree die set, and then added one of the trees from the Tree Assortment die set for the stem of the flower.  I am sure you can tell I am having fun with this one!
The Slimline Envelope Edger scallop die was perfect for creating the hill.  I tucked the "flower stem" behind it, and then placed it on top of the Zig Zag Stitched Rectangle panel.  The last this was the sentiment, and for this I decided a simple "smile" would do.  I could have done this card with tons of colors, but loved the white on white look better.
Polka Dot Pal Faces clear stamp set
Zig Zag Stitched rectangle die set
Slimline Envelope Edger die set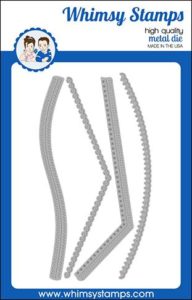 Smile Large Word die
Copic Markers:
Y15 Y32 Y35 Y38 YR04 R11
B23 B24 B29 N4