I know I want a kiss from this Unicorn.  My good friend Lois sent me a cute "dog" quote that she read somewhere, and I think it would have been perfect for the Unicorn Kisses.  The quote goes like this…
"I do not drool, I emit magical puddles of joy & love"
Card Details:
This is just a quickie post to show you the new Unicorn Kisses stamp set.  I just love his squishy face, and did I some fancy coloring to the image (of which I can't remember how I achieved this look).  I remember wanting it to lean more towards pastel colors.
Once he was colored and hand cut out I placed him on the card with black being the accent color.  The only elements I added to this card were from the cut outs of the Slimline Clouds die.  A pretty simple card, but still SQUEEEEE-dorible and full of cuteness.
Unicorn Kisses 4×3 clear stamp set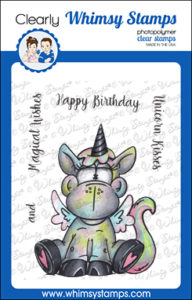 SORRY – DON'T EVEN ASK WHAT COLORS I USED…OOOOFDA!