Be bold, stretch your creativity.  Remember it's just ink and paper!  Grab a couple of the Polka Dot Pals stamp sets and see what amazing things you can do with them.  I challenge you!!
Card Information:
Couple of the things I love about the Polka Dot Pal images is that they are interchangeable between sets, and the other thing I love is that they don't have faces on the actual stamp.  Yes, that is something I love.  This gives you the opportunity to leave it as is, or add your own creative face.  If you prefer faces you can use the face that comes in most sets, or one of the other Polka Dot Pal sets.  Mix and match!
For this card I used the image that comes in the Polkas Dot Pal Nour set with the face, and then added the milk canister behind him.  So many possibilities, and all you need to have is a little imagination.  Once colored and cut out, this layer was popped up off the background paper.
The sentiment was created using the Bold ABC die set, and the word "HAY" was stamped using the Alphabet Mini clear stamp set.
Polka Dot Pal Nour clear stamps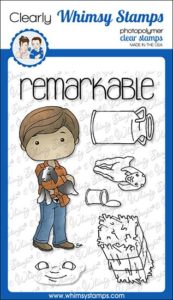 Bold ABC die set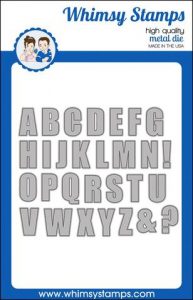 Alphabet Mini clear stamp set   

Doodlebug Down on the Farm 6×6 paper packet

Copic Markers:
C1 C3 C5 C7 C8 C10
B91 B93 B95 B97
R14 R29
E50 E51 E53 E55 R11
E23 E25 E27 E79