These unicorns are definitely magically delicious, and there is a whole set of cuteness coming your way with this NEW Unicorn Magic clear stamp from Whimsy Stamps.  You will see that Dustin Pike has done it again with his Silly, Whimsical, unique style.  I just couldn't wait to play with this set, and was thrilled with the Slimline Cloud die that was released as well.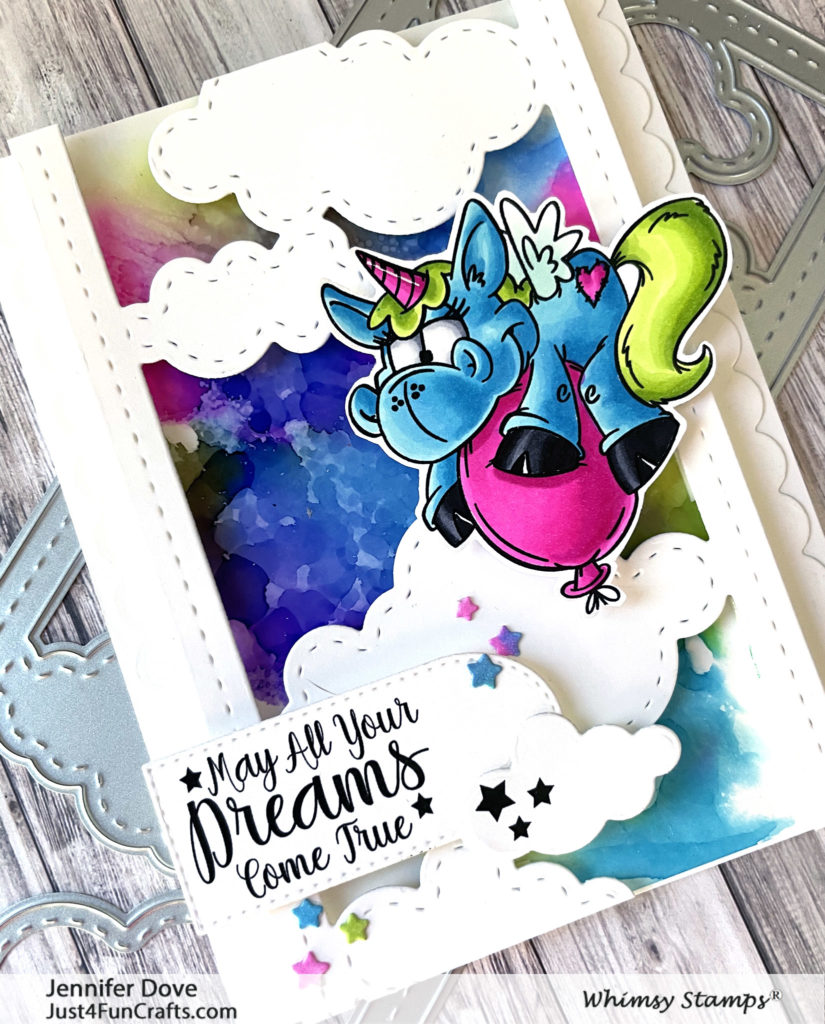 Designing this Card:
You might want to check this out.  After spritzing  glossy paper with 91% rubbing alcohol, I placed some drops of matching colors using Copic Various ink onto the paper, allowing it to self-blend.  Once the paper was dry, I lightly spritzed it again with the alcohol, and watched it marbleize.  This is a fun way to create your own paper, and is how I created this cards matching background paper.
The Slimline Clouds die is perfect because it can be used not only for the slimline size cards, but also an A2 card size.  The die cut layer was popped up on top of the marbleized background using foam tape.
Once the unicorn was colored, I hand cut it out, and then adhered it onto the upper right clouds on the card front.  Those tiny stars are the negatives from the Slimline Stars Background die set and can be found HERE.  I added a sentiment from the set, and a few more clouds from the die before calling it done.  Before you message me and ask…I did slip a scalloped edge on this card.  Its the Slimline Birthday Scallops die set, and can be used in many ways.  So, there you have it!
Unicorn Magic clear stamps
Slimline Clouds die set

Do you love the colors I used for the unicorns?  All the bright and cheery color combinations are posted below.
Copic Markers:
RV04 RV06 RV09
C1 C3 C5 C7 C9 C10
B01 B02 B04 B06
YG01 YG03 YG17
YG11 BG10