Well, if you need to ask then most likely the answer is naughty…naughty is good, right?  This new clear stamps set has all the feel-good going on, with a bit of cuteness, gift giving and a hot looking, pimped out sleigh.  If you haven't gotten your hands on this set, do not hesitate.  Christmas is coming soon.
Creating this Card:
I found some cool "older" Whimsy Stamps Christmas paper to design this card with.  Did you know they sell paper packs?  You can find them HERE.  Paper packs sure make things quick and easy to design what papers go together for a card.
I did a shorter piece of pattern paper on the top and a taller one on the bottom, but I wanted to give it a little separation, so I used the Kinetic Straight Basics scallop to give a little border.  These combined layers were added to the green and brown cardstock and then wrapped with a bit of brown dot ribbon before adhered to the card base.  Using some more pattern paper I created the center rectangle, and layered it before popping it up off the card.
The image was colored and then hand cut out.  I love how these images are easy to cut as the basic shapes are simple.  The last thing was to add the fun sentiments from the set to complete the card.  Super fun don't you think?  Be sure and check out the whole release, as I am sure you will find some cool stuff, and while you are there click on the products and check out the card samples associated with each item…cool!
Dragon Christmas Wishes clear stamp
Kinetic Straight Basics die set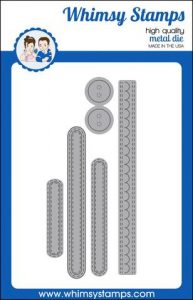 Copic Marker:
W1 W3 W5 W7
C1 C3 C5
YG03 YG17 YG67
B00 B02 B05 BG75
E31 E35 E57