These two characters are just NUTS!  Want a fall card, but not a halloween card?  Then this new clear stamp set, Bundle of Hugs, is perfect for you!  Actually, this clear stamp set, showcasing some nutty-buddies, are perfect year round!  I had a lot of fun "picking" and choosing my colors for this one.
Creating this Card:
This card had more coloring work than card design going on, so it really is quite simple to assemble.  I adhered a black cardstock layer down to the card base to give the card a framed look.  Next I added a dry-embossed white layer using an old cuttlebug folder I had.  The wood-like frame is created by using two taped together Wonky Stitched Rectangle dies and pattern paper, and then this layer was popped up onto the white embossed piece of card stock.
I used the Wonky Stitched die again to add a little extra to the sentiment and then tucked the sentiment under the frame.  The last part of the card was to color, color and color…and then hand cut out all the little elements.  These were added to the outside of the frame and popped up where needed.
These silly fur-balls are having way to much fun…just like me!
Wonky Stitched Rectangles die set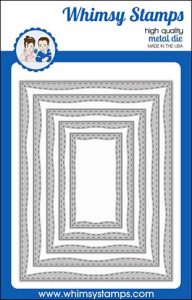 Copic markers
R02 R05 R27
Yg03 Yg17 Yg67
W1 W3 W5 W7
B23
E31 E35 E57
E70 E71 E74 E77 E79 R11