As we get ready to embark out of Indiana, on our slow journey back to Arizona (we are full time RVers), some of my post will be short and sweet…this is one of them.  We are packing up to hit the road tomorrow.  I have some cards still to share that I was able to create ahead of time to keep you inspired while I travel.  I hope you enjoy!
A new set of adorable fairies is now ready for you to love.  This little bit of sweetness is just one of three fairies in the clear stamp set Fairy Dreams, available through Whimsy Stamps.  Their little expressions will tug at your heart.  Okay, these were available yesterday, but because its so popular they are out of stock AGAIN…get on the "notify me" list in the store using the direct product link.

This was an easy card to create and the photo really gives you all the details you will need.  I shared links below for the products I used to create it.
Fairy Dreams clear stamps

Lattice A2 die
Grass and Cloud Border die set

Leaf Foliage 1 die set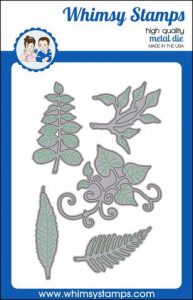 Copic Marker:
E50 E51 E53 E55 R11
YG11 YG03
BV20 BV23
E31 E33 E57 E79