This is a loooong post…no, not really but these cards are long.  I love that Whimsy stamps came up with the idea of Slimline card dies.  The idea was so good that other companies started to copy it, but we all know who came up with the original idea!
Todays release has the coolest Slimline die EVER!  Did you know these slimline cards fit inside an A10 business envelope?  Below I also show some of the other fun things being released this week too.  Check out this fun card!
Creating the Card
What do you think of this birthday card I created with this Slimline Filmstrip die?   After doing some simple coloring and limited blending on all the images from the "Bam You're Old" clear stamp set, the elements were hand cut out.  The sentiment "You're Super old was cut out using the very cool Speech Bubble die.
Using my handy foam tape, the Filmstrip panel was popped up, and then I attached the the cityscape silhouette to the underside of it.  This layer was then added to the top of the pattern paper that I created using the Comic Halftone stencil.  All I did to create the background layer was use a blending brush, the stencil and some memento ink in blue.
As you can see, all the elements were then placed on top of the Filmstrip layer to finish off the card.  Bam!!  Just like that the card is done!
I have another fun card in a couple days using this same set.
BAM You're Old clear stamp set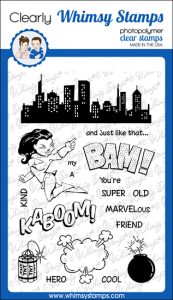 Comic Halftone stencil

Copic Markers:
Y15
E50 E51 E34
B24 B26 B28
R14 R27 R59