I have been taking advantage of the extra time I have to hang out at home.  I am enjoying the lack of stress from the every day chaos that normally takes place in our lives.  Sure, We don't get to face-to-face but we can still Face Time, text and call people.  I consider this a blessing.  So in the lockdown we are all going through, I am creating.  This adorable stamp/image is from La-La Land Crafts.
Creating this Card
I have pulled out some stamps I had hoped to get to before all this had happened and am happy to say things are getting inky around here.  here is sweet Summer Baby Marci.  For Marci I used a little Creative Color Placement to create her eyes.  I think it compliments the already adorable images.  I used the rubber stamp but you have an option to purchase in digital as well.  Both links are below.
I paired her up with a fun stencil, So Many Dots of which I airbrushed with the same colors I used on Marci's dress.  Using the Large Stitched Tags dies I created some of the layers behind Marci.  One was used with the Stencil and the other was stamped using Hearts Forever background stamp.  In order to match the colors as my stamp pads are limited I colored with my Copics on the rubber stamp and spritzed it with rubbing alcohol.  You can then stamp as normal.
To round out this cute image I added some summer flowers using the ornate die set Flower Elements border die.  There are so many different ways you can use this set, I ought to be using it more frequently.
Thank you for taking a look and I hope you enjoyed it.  All the links are below for some quick therapy shopping.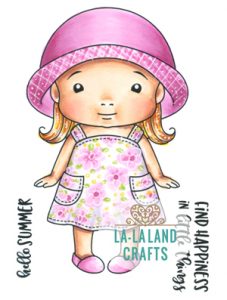 Summer Baby Marci – Digital
Summer Baby Marci – Rubber Stamp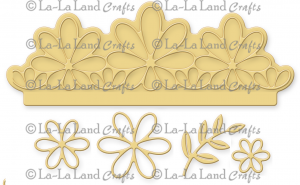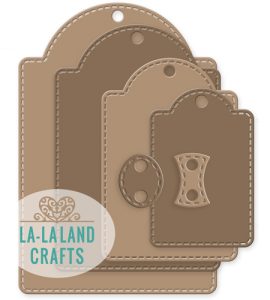 Large Stitched Tag die
So Many Dots stencil

Hearts Forever background stamp set
Copic Markers:
E50 E51 E53 E55 R11 E04 Skin/Lips
C1 C3 C5 G43 YG67 Eyes
YR21 YR23 YR24 YR27 E08 Hat
B60 B63 B66 B69 Dress
E43 E44 E47 E49 Hair
BV20 BV23 Shadows