How SSSSSSSweeet is this?!  Okay I know we don't look at snakes as being sweet, but I bet some special somebody will think it's pretty sweet when they get this cool box of chocolate eggs.  I had a bit of fun with this new die Hexagon Treat Box from Whimsy Stamps.  Check it out below and check out the free stamp you can grab too!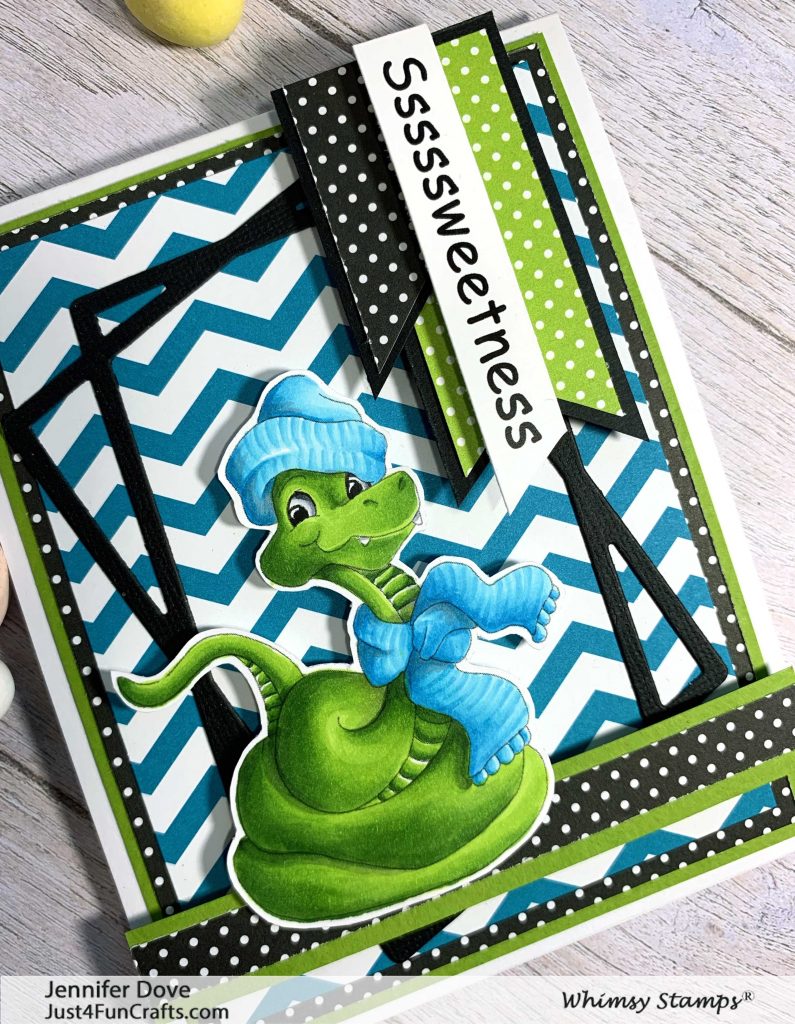 Hey, if yah gotta be a snake…be a cool snake in a hat and scarf!  This free Whimsy digital stamp is available through the link at the end of this post…SSSSSSuper!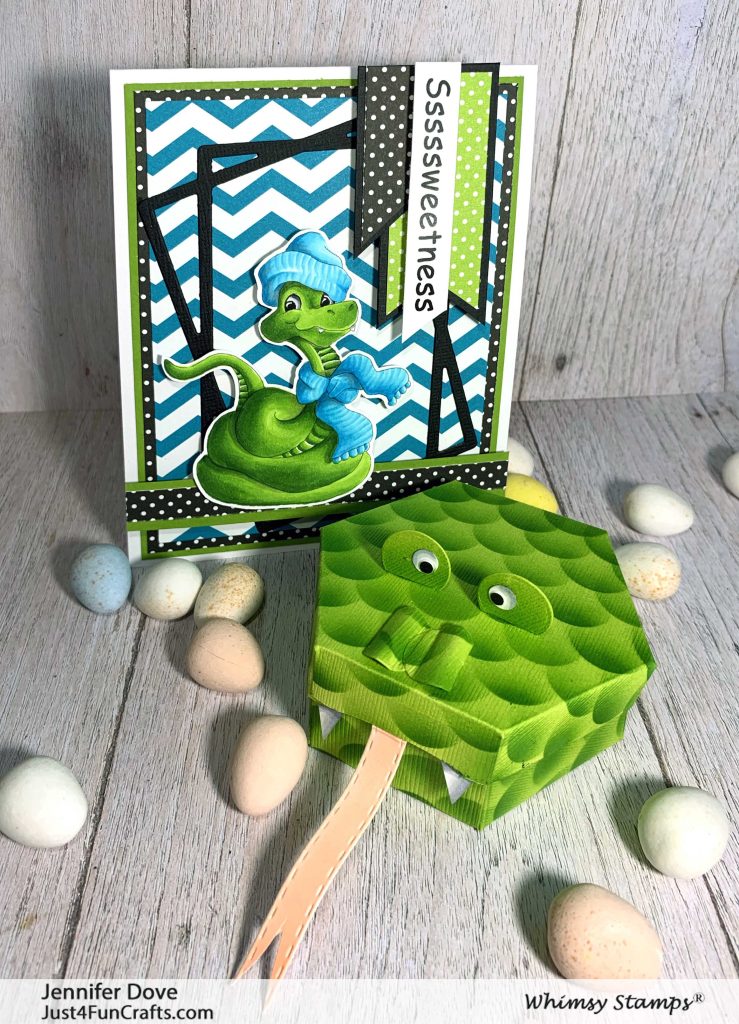 SSSSeee I told you there was a box in this post….I took the Hexagon Treat Box die and turned it into a snake box for some Easter treat fun.  How about creating an Alligator…or a hoppity frog.  So many things you can make.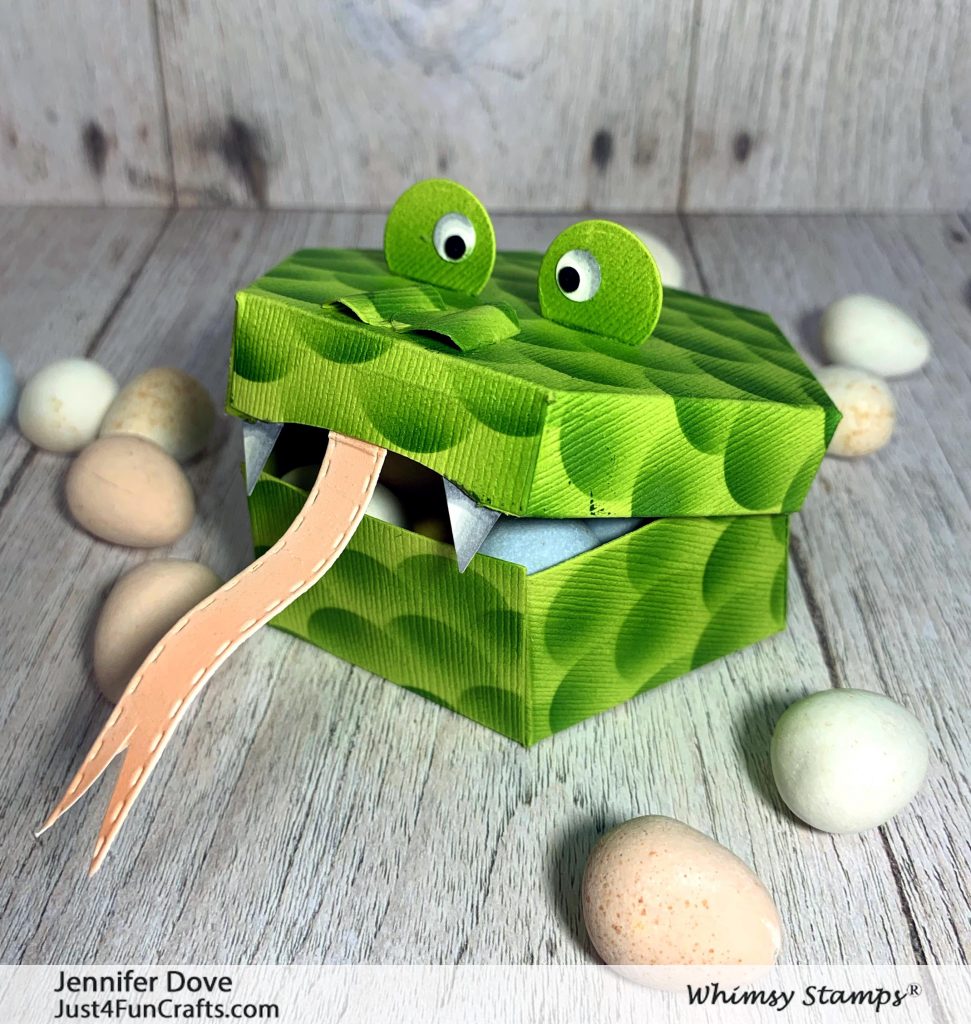 Creating the Box
Here are a couple quick photos of the process that I used to create this box.  The first thing I did was to die cut a few circles and the box out fo the green cardstock..  The stencil was created by die cutting some circles in acetate.  While flat, I airbrushed the green paper with my home made stencil and green markers.  Once the design was created it was easily assembled using a little liquid adhesive..
The eyes were made using the two circles that I cut out of the green cardstock.  Lightly scored and adhered.  Some googly-eyes would have been fun too.  I created a stitched tongue and some little teeth.  The nostrils were also using two die cut circles.
See nothing too complicated and loads of fun.  Fill with some yummy candy and try not to eat too many when making this.  I added the fun card to compliment the candy box.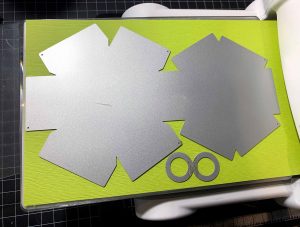 Here are the products I used below to make this card and box.  I hope this gave you a little giggle.  I can not wait to see what you create with this box die.  Don't forget to grab the freebie below.

Hexagon Treat Box die

Connected Rectangle Frame die

Digital Freebies – Goodness Snakes
Copic Markers
YG03 YG17 YG67
B01 B02 B04
C1 C3 C5