I keep seeing people post cards with cool cloud backgrounds.  It has inspired me to do one myself.  I thought it would be the perfect backdrop to this Fairy Llamacorn.   What is a Fairy Llamacorn you ask?  If you lived in my fantasy world you would know what it was.   This clear stamp set has just been released through Whimsy Stamps and is sure not to last long in the store.
~ INSIDE OF CARD ~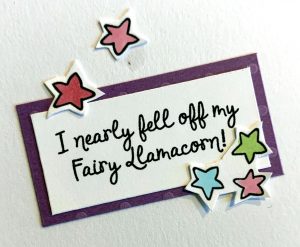 Creating this Card
Don't you think the dot-blending is fun for this image?   I like how it looks.  I made my own stencil by die cutting a cloud from the Grass and Cloud Edgers die set.  Using my Copic Airbrush setup, or you could use ink pads and sponge daubers, I added color to get the clouds.
I cut the panel down using the Wonky Stitched Rectangle Die, and then cut out the center using the Basic Stitched Ovals.  This layer was popped up onto card base and the cut-out oval was adhered into the open oval space.
The colored image was then cut out and popped up using foam tape and placed over the outside sentiment strip.  Don't forget those popped up stars around the image.  The final step was to add the remaining sentiment onto the inside of the card.
Fairy Llamacorn Magic clear stamps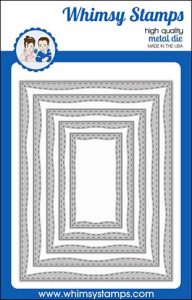 Wonky Stitched Rectangle die set
Basic Stitched Ovals die set

Grass and Cloud Edger die set
Copic Markers
C1 C3 C5 C7
E41 E42 E43 E44
V22 V25 V28
R81 R83 R85
B00 B02
Y04
G40 G43 G24