Sometimes we need a card that doesn't say a lot, but speaks loudly on its own.   This exquisite new stamp Chickadee, from Whimsy Stamps, is one of those stamps that everyone should have because it's so simple to color, and can work for so many occasions.
I added a couple extra flicks of color in the background to give the illusion that the bird was more forward on the card amongst other branches.  When doing this you will want to use more muted colors for the background.
Creating the Card
I was struggling to find the right pattern paper to use with this sweet stamp, when it all of a sudden came to me, go old school!  Heat embossing!!  I don't seem to use this technique often enough and I have plenty of embossing powders to use.
After inking up an A2 size piece of white cardstock I pulled out a favorite background stamp "Cozy Blanket".  Using white embossing powder I stamped and embossed the background.  Once I finished with the embossing I used the Notched Rectangle Die set to create the frame.
A single line of pearls was added to the sides in black.  Do you notice how it draws the eye back into the center of the card by adding black to the edges?
The  Friend Word and Shadow die was perfect to give it a simplistic sentiment that would compliment the stamp.  Simple and Elegant.
Friend Word and Shadow die set
Cozy Blanket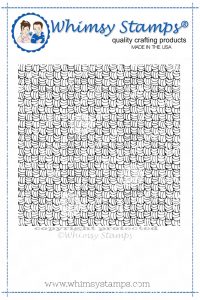 Chickadee

Notched Rectangle Die Set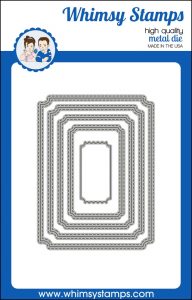 Copic Markers:
W1  W3 W5
E40 E42 E43 E44