I think I just about used all the stamps in the two new Wizard stamp sets, aren't they all just fab?  For this card I combined 3 smaller stamps to create a little cluster.  If you look at the clear sets packaging closely you will see these are the exact same colors and coloring used.  Did you know I color the packaging for the Dustin Pike line of stamps through Whimsy Stamps?  I figured you would like a colored reference when purchasing these stamps.
You can see in this particular card, as well as the other wizard cards, that they were all fussy cut out.  That is because I color the whole set at once, exactly as seen on the package.  Just stamp, color, cut and create.
This card was created using the Wonky Window Die 1.  Instead of popping up the frame I glued it down and popped up the inside pieces.  It gave it a crazy-quilt look.
I added one of my favorite Flag Banner from La-La Land Crafts to the top of the card.  A birthday card needs flags don't you think?
You can find the info of the products used below.
La-La Land Flag Banner Die
Whimsy Wonky Window Die 1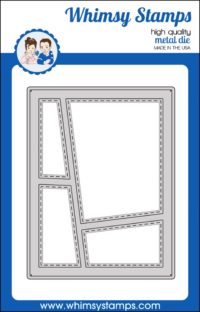 Whimsy Cast a Spell
Copic Markers:
YG03 YG17 YG67
E51 E53 E55
W1 W3 W5
C1 C3 C5
B21 B24 B26
Y15 Y19