I got the pleasure of doing a demo at the La-La Land Crafts boot at Creativation 2019 in January.  For this demo, I wanted to show people how you can take your die-cut to the next level.   For this card I used the delicious Waves Border, Fishing Net and Sea Horse dies from La-La Land Crafts and added it to Mermaid Molli.  Check out how easy this look is achieved.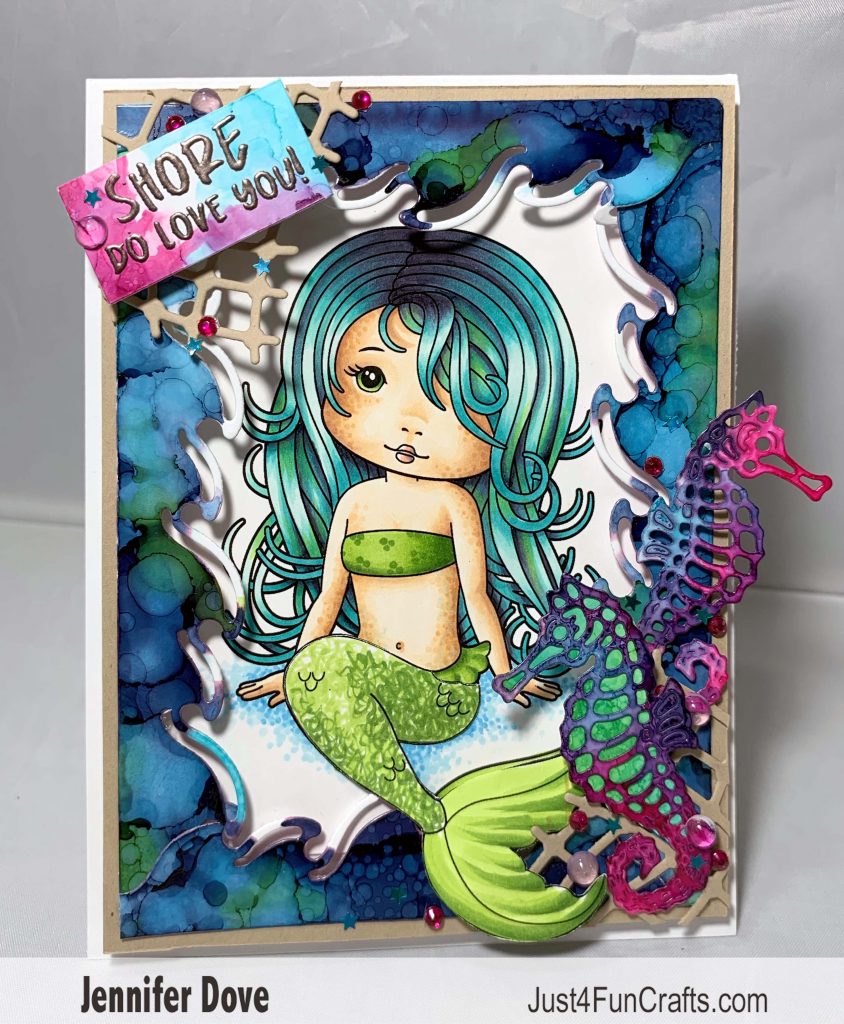 Items you will need:
Glossy paper or photo paper
Fine misting sprayer
Copic Various Ink (or other alcohol ink brand)
Your favorite die and die cut machine
Surface that can get messy.
91% Rubbing Alcohol
Tweezers
Die cut a few pieces of the glossy paper.  Place the rubbing alcohol into the fine misting spray bottle.   Spritz the paper with the alcohol.  Enough that it won't immediately evaporate and leaves an even coverage…don't drowned it wither, giving you time to play.  Drop some drops of Various ink onto the die cut piece or drag the spout of the refill across the paper.  Pick it up with tweezer and lightly tilt back and forth to move it around, like you are rocking a boat.  You can give it a couple of quick blows of air to spread it even more.  Once it is completely dry you can give it a very light spritz of alcohol to "marbleize" it.  I use this same technique when creating larger backgrounds.  Do this project in a ventilated area but not with a fan on, as things will dry too quickly.


La-La Land:
Mermaid Molli Rubber stamp
Mermaid Molli Digital stamp
Waves Border die
Sea Horses die
Fishing Net die
Other Favorite Supplies:
Tweezers
Nuvo Misting Bottle
Copic Various Refills
Glossy Cardstock
Imagine Crafts Silicone Craft Mat
Happy creative mess to you!  – Jenn Dove