Squee…who doesn't love a Gnome on a snail?  This fabulous stamp was one we got to create with during Copic Boot Camp.  For this challenge at Boot Camp I handed out pattern paper and told the attendees to pick their own Copic color combinations to match the paper.  I was really impressed.  As I have said before, this is how I create my cards….paper first, color choice second, card designs last.

Stamping Bella has a whole line of Gnomes that are just the best!  You can check them out HERE.
Stampingbella – Oh Gnome You Di'int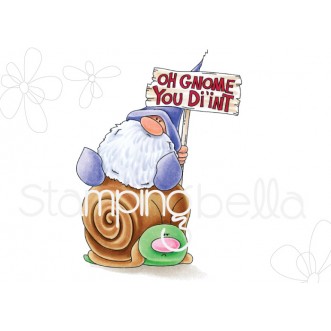 For this card I also combined it with some fabulous dies from Whimsy Stamps.  We all need those dies that work with everything.  For this one I used the grass cluster from the All Seasons Tree die set.  I combined it with the Kinetic Curve Hills Die set that comes with a fabulous fence, hills and flowers.  You can find them at the links below.
Whimsy – Kinetic Curve Hills Die Set

Whimsy No-See All Seasons Tree Die Set
Copics
Multiliner black