Are you feeling it?! Are you over it? Well Merry flipping' Christmas! Ha ha…I just had to do it! This image by
Bloobel Stamps
, teamed up with some Tonic goodies it worked out perfectly to create this hilarious card. As soon as I saw the image I had to have it! This year we are keeping it very simple and it has been such a stress free time. A little 4.5 ft fake tree decorated with a dozen or so special ornaments and nothing underneath…not even a tree skirt…yet…I'm sure a couple little goodies will show up after Santa crawls through the RV fan opening on the roof. Putting away the whole Christmas thing will be simple too…YAY! I love stress free…just like making this card…well almost.
Did you know Tonic Studios has
Glimmer Paste
, Stencils as well as the loved Nuvo drops? For this card I used
Beautiful Bokeh stencil
with the
Garnet red Glimmer Paste
. Using a craft knife I spread the
Glimmer Paste
over the stencil and then gently removed it. The great thing about this
Glimmer Paste
is it dries quickly allowing you to continue working on your card… UH OH…dries quickly? Better get the glimmer paste washed off the stencil and quit my fussy-farting around. I won't do that again….stencil cleaned well after a little scrubbing though. WHEW! After I was done assembling the card I added a little
Woodland Green Crystal Drops
to the red
Bokeh background
and accented a few white spaces. I think its perfect!. The shimmer is amazing but of course photos don't pick it up well…you will just have to trust me.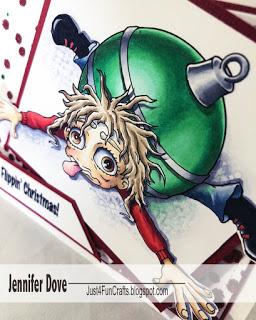 If you need some personal spoiling for Christmas how about treating yourself to a few days of coloring, knowledge and fun in Phoenix, Arizona?!
This is a little reminder that if you haven't registered for the last of the Copic classes and workshops that are being taught in Phoenix in January you should get signed up right away!! The link is HERE. I will be teaching at these events as well as Debbie Olsen and Cindy Lawrence. They are going to be FABULOUS!!
Copic:
Ornament – G00 G02 G03 G05 G09 G19 G28
Shadows – BV20
Shirt – R24 R29 R59
Skin – E50 E51 E21 E23 R20 E93
C1 C3 C5 100
Pants – B91 B93 B97 B99
PS…Thanks to Rhea for the quote idea.