Ok…You must read this post! Oh my, this was the craziest, fun project I just did! I got this material
X-Press It Stencil Sheets
from Imagination International and have been racking my brain trying to think of something fabulous to do with it. Although there are many uses I wanted something a bit unique. All of a sudden BAM! I thought of something and had to try. I have included step by step on how it was achieved as well as what NOT to do…
For this project I used:
Cutting Knife
Cutting Mat
Transfer Tape (I used packaging tape)
Printed Image
Piece of old sheet music
Copic Marker C9
Copic Blender Marker
Directions:
Stencil sheet packages come with extra
thick vinyl sheets
that are sticky on one side a thick piece of white protective cover on the other side. This is a low tack product which is reusable over and over again. It doesn't even leave residue on your projects. You can use it with cutting dies, or computerized cutters. Here is how I put it to use!
Step 1: Print an image in black and white. The simpler the image the better. Tape the image to the non-sticky portion of the stencil sheet. I would put two-sided tape on the back of the whole image so that when you cut it apart the portion you are keeping stays put, (…not like I did which was the hard way).
Step 2: Cut away the black portion of the image. BE SURE your blade is sharp or it will not cut through the
rubber-like stencil sheet
. Do not cut through the white protective cover of the stencil sheet. If you have multiple pieces that are not connected put a piece of transfer tape over the non sticky side to hold the pieces in the right spots. I didn't have transfer tape so I used packaging tape that I made slightly less sticky using lint from my jeans…it works but is not the best thing to use.
Step 3: Remove all the cut-out "back portion" pieces. This is called weeding an image. All that you should have left is the portions that were white AND the white backing. ***I didn't because my cuts didn't go through the rubber sheets due to dull knife.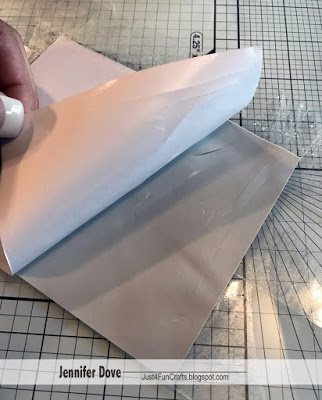 Step 4: Remove the white protective covering from the stencil sheet. Place the sticky side of the stencil sheet down onto your paper. I used old music paper because its soft and I can move the color around after airbrushing.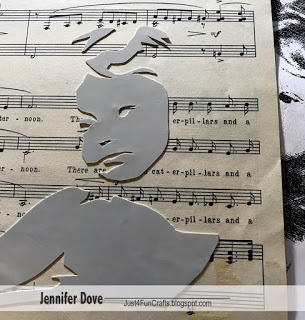 Step 5: Remove the transfer tape and discard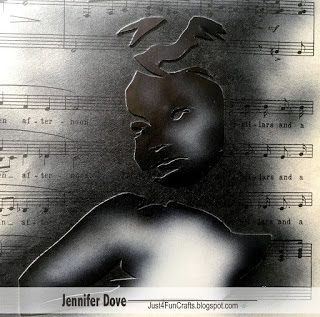 Step 6: Using the
Airbrushing machine
, airbrush around the
stencil
. You can also use a distress ink pad instead if you don't have an airbrush machine
Step 7: Remove stencil and using a blender pen soften edges of the image if desired. (you can also use multiple marker colors to blend in towards the white area is the paper isn't soft like old music sheets.
I hope you enjoyed the process and give it a try one of these crafty days. I look forward to playing more with it too!!!
– Jenn Dove