I love unicorns as they are so mystical (but this one is just plain adorable). I got to color up this new image Unicorn Dreams by krista and sold through Make It Crafty. I added her on top of the Trees Silhouette by DoveArt Studios and it is stamped in gray. I used a black multiliner to add depth to some of the trees on the left. This is the first image I have colored in a while (Thanks to the encouragement of Zoe with MIC) as I have been in a coloring funk with limited time to devote to being creative, plus half my supplies are at home and the other half are in the RV which makes being crafty a bit more difficult. I have just discovered that if I can get past the fact I have nothing to play with I can be even more creative. THUNK! Who would have thought?!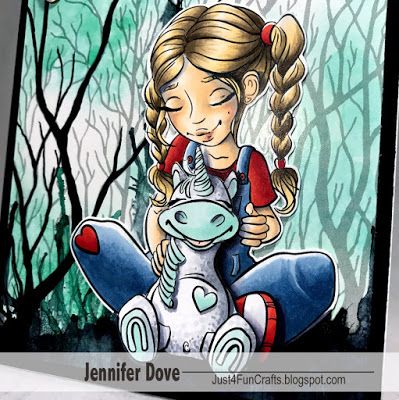 I recently started playing with glossy paper and the
Various Refills
. So the bottom edge is drops of the 100 (Black) and BG34, then a spritz of 91% rubbing alcohol and a little canned air to blow the ink where I wanted the ink to go (more or less). It was a fun way to "ground" the image and give it a more earthy look. Super simple and a nice look don't you think?
Make it Crafty has the BEST
Chipboard words
in the world! Yes they will ship from Australia, but the shipping is extremely reasonable and you can pack a whole bunch in an envelope. They are a must!!
Copics
B91 B95 B97
R14 R27 R29
E50 E51 E21 R11
BV20 BV23 BV25 BV29
E43 E44 E50 YR31
C1 C3 C5
BG10 BG11
Background on Glossy
100 and BG34