Some times you just need a moment to do what you want to do! My list of things to do will always be a mile long, so no sense in waiting to get my list done first.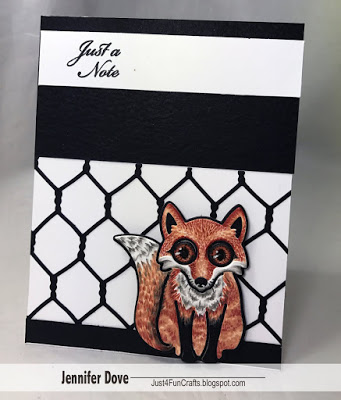 I have been wanting to play with Karen Burniston's die – Dutch the Fox. I wanted to see if I could add Copics to the cut-out pieces and make a cute card with the coloring twist. If you enjoy to color I would love to see what you do with a die. I used all the cut out pieces for this card…plus added Karens amazing Pop It Up – Chicken Wire die for the background. I am not being paid to say this by the way…but OMG these are awesome dies!!! LOVE this chicken wire…found a keeper! And who can resist this cute fox?! I tried to find a chicken image for the background (behind the fence but, believe it or not, I didn't have a single one)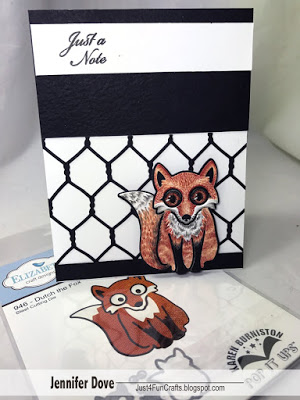 Copics:
E21 E13 E07 E08 E09
W1 W3 W6 W8 W10
E59
Links to make it easy for you to buy it 🙂
I hope you enjoyed this little bit of fun!!
Jenn Dove