I thought I would challenge myself to create something using the Copic Various Ink Refills. I have seen other do this technique in other mediums and thought I would see what I could come up with. I wanted a rally aged and weather (stained and distressed) look to the "leather" when done. You can get a similar effect and not have it looked so "distressed" by using lighter colors.
Supply List:
E47 Copic Various Ink Refill
E99 Copic Various Ink Refill
Wide Paint Brush
Blender Solution in Spray Bottle
Water
Kraft Paper
Clear Embossing Powder
Heat Tool
VersaMark Emboss Pad
It was a pretty easy technique to do and I loved the end results.
1. Wet paper completely with water (I ran it under the faucet) and carefully scrunch it up in a ball. Be very careful as wet paper will tear easily. While still wet carefully open it back up and lay it flat to dry. To speed up the drying process you can heat it with the heat tool.
2. Once dry take a dry paint brush and dip it into a little Various Ink and wipe it over the texture of the paper. You can add blending solution to the various refill if you want as it will go on more smoothly. Add one color at first. I added E99 as my fist color.
When done with the first color mist the paper using the Blender Solution and a spray bottle. I saturated the paper. While it was still wet I added blender Solution to the paint brush and picked up some E47 Various Ink and applied it to some areas of the Blender saturated paper.
Let Dry (or Heat with heat tool to speed up the process)
3. Using the Versamark Stamp Pad I rubbed the surface of the paper. Add the clear embossing powered to the Versamark covered paper (work in sections if needed). Heat with heat tool to give paper a nice gloss.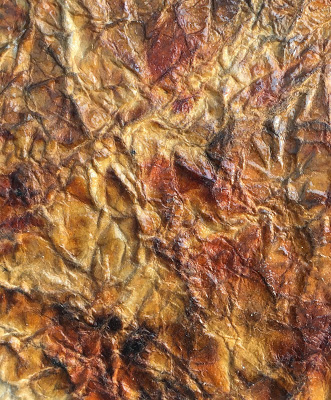 If you want a more distressed look you can slightly crinkle the paper again. You can even sand off some of the embossing powder. Be gentle though as it's not real leather…it's just paper ha ha