I am so thrilled to be able to announce the release of my latest class through Annies Online Classes. The first class, Create with Copics: Beginners Guide, was so popular they released a second class, Coloring Fun with Alcohol Ink markers: People.
I think you are going to LOVE this class and find wonderful inspiration through watching it either as an online class or through DVD both now available. Once you purchase the class you will be able to watch it at your own pace over and over again. You can click on the "ask the instructor" and get feedback and answers to your question if you ever get challenged in a certain area. You receive so much informative information from this class you will be on your way to mastering some of the more difficult techniques when coloring skin, hair, clothing and more. Click on the link on the right hand side of my blog to get a peek of what you will get to see, or just grab your class today either online or on DVD.
I was blesses to receive permission to GIVE you some amazing full images, un-watermarked, for you to color along as downloadable worksheets. Thank you to Krista (Saturated Canary), Zoe (Make It Crafty) and Barb (Little Miss Muffet Stamps)
This class includes:
Downloadable and printable worksheets and non-watermarked images for practicing each technique and for creating five exclusive card designs as well as downloadable reference sheets for keeping track of your favorite combinations.
You will learn how to
Color light and dark skin tones with perfect blending.
Make faces look 3-D.
Shape and color four different eye styles: realistic, comic book, small dot eyes and animal eyes.
Color lips with a sheen.
Color hair with curls, waves, highlights and shine.
Add sometimes-missing facial features such as noses, cheeks and chins.
Color clothing with texture including folds, pleats, ruffles, fluff and denim.
And much more.
Anyone who knows the basics of using alcohol ink markers (including but not limited to Copics) will be able to successfully complete this class.
Here are some of the fun projects you will receive downloadable information on.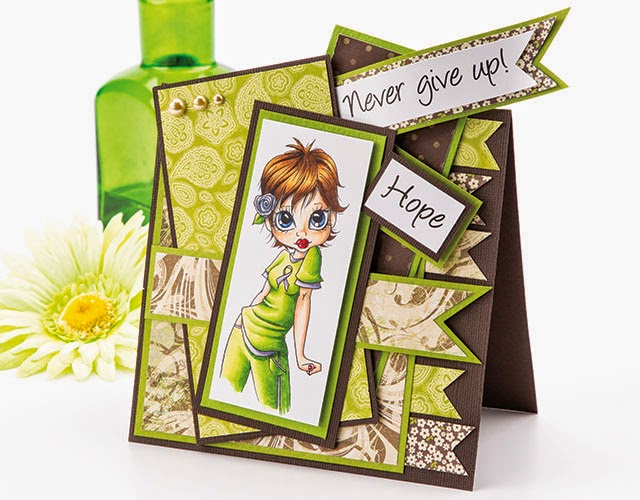 Annie's online classes include downloadable and printable class patterns in PDF format in addition to the online video content. You can view online classes at your convenience, 24/7, 365 days a year from any mobile device, both tablet and non-tablet (phones, iPod Touch, etc.) but classes are best viewed on tablets or computers.
Now for that giveaway!!!!!!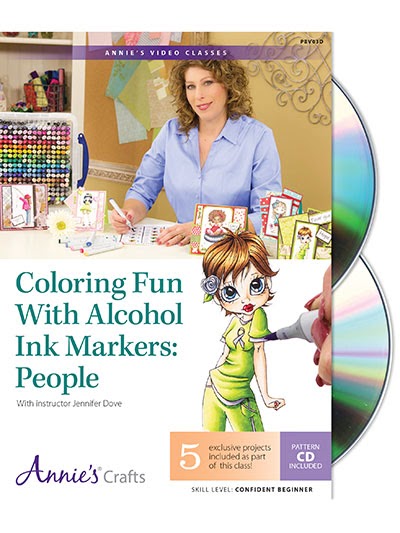 As a thank you to all my Peeps over the years, and those that are new…or Color of the Day grab and runners :), I would love to give away 2 DVD's of the "latest and greatest" class, Coloring Fun with Alcohol Ink Markers: People. Leave a comment and I will pick two winners on August 13th. Be sure and come back on the 13th to see if you are the winner.
**Note: If winner doesn't contact me within 3 days I will choose a second winner. Sorry but the winners must have a US address…but feel free and share the love anyways 🙂