When it is "time" to step out of the box…now would be the moment. Carmi with ETI resin asked 100 people to create a watch using EnviroteX Resin, and I jumped at the chance. All the resin time pieces were taken to CHA for a display.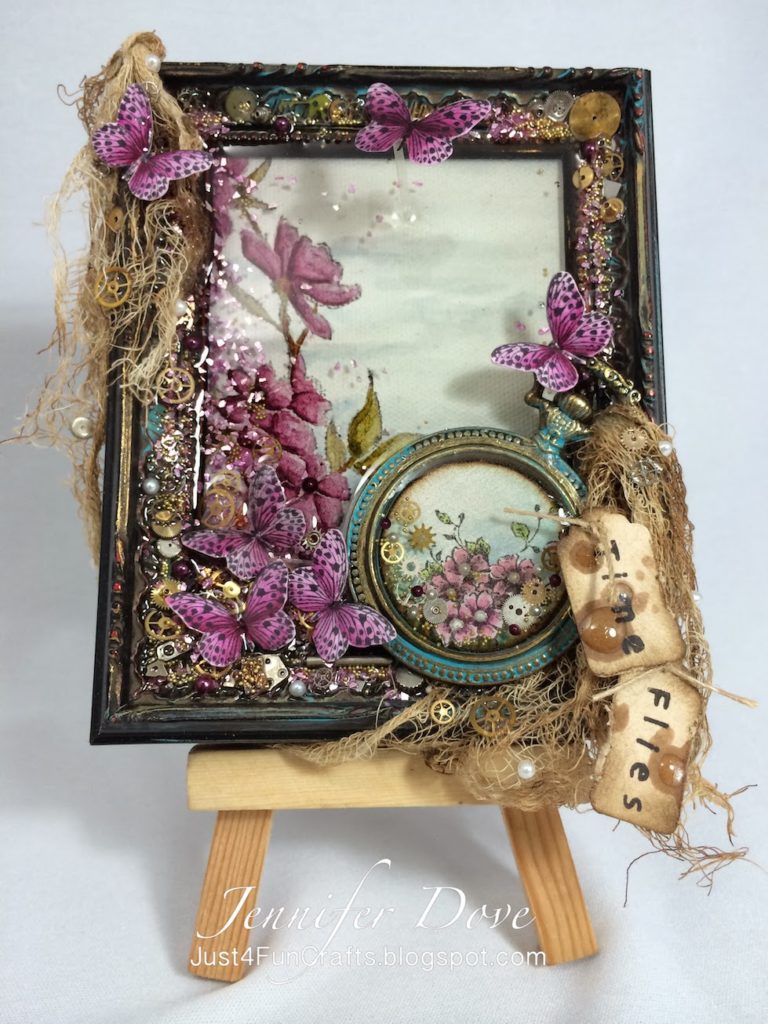 Because I was working 3 different resin pieces at once I had to have a lot of different resin pours as well as lots of resin curing time. The three separate pieces were 1) butterflies, 2) canvas and frame, and 3) the watch piece.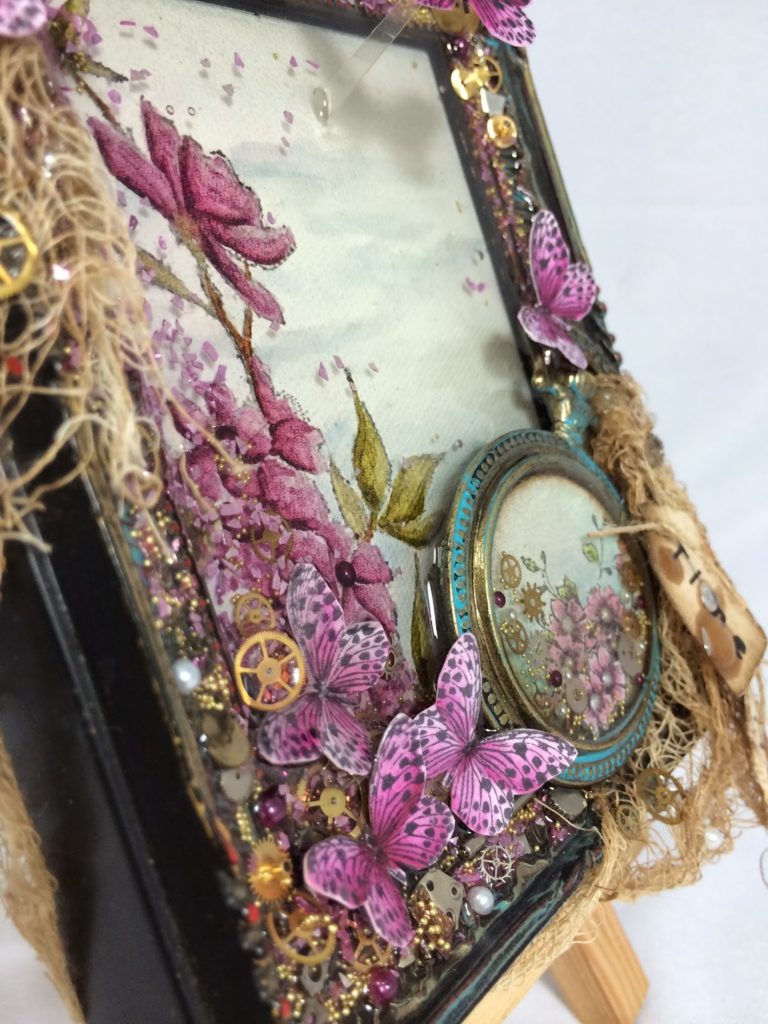 1) I stamped using Stampendous SSC1177 butterfly charms onto white cardstock and colored the butterflies with Copics on both sides. If you saturate the paper with alcohol ink it seals it and keeps it from changing colors once the resin is poured. Next I placed the butterflies on wax paper and brushed on the resin (if i forget to mention again…at some point after it is cures (12 hours later) I will flip them over and do the back side as well)…set aside.
2) canvas time….Stamping an image on the canvas and then coloring it was the easy part. I used Mod Podge to seal the canvas within the frame and let dry completely. Once dry I glues a piece of thin strip of acetate to the sky portion for my "floating butterfly", added some
Stampendous glass glitter
and gears and then I began my first resin pour. Set aside
3) A small piece of cardstock was stamped and colored for the watch. I sealed it using Mod Podge and glued it using Mod Podge with the bezel. then i started adding the gears and did my first pour of resin…leaving room for a second pour later
Now it gets interesting…everything had a first layer and is now dry…what next?
1. add some butterflies to frame and resin portion of canvas…add gears glass and microbeads and pour resin. set aside
2. add gears and stuff to watch and pour resin…until domed….very very very carefully set aside
once all resin has cured…
1. Add more butterflies, glass glitter, microbeads and remaining butterflies….and watch piece
2. Do final pour of resin…set aside. don't forget to leave one or two butterflies to add to the "floating butterfly spot and the frame.
I think thats it…yes, this took me days and days waiting for things to cure, but that was just fine with me…cause time flies when your having fun!!