Lisa Hindsley did it again! I love "Happy" Jack…he is just the happiest pumpkin EVER. He brought a smile to my face when I colored him up. He is available through Stampendous or at your local craft store (or can be if you ask them to get it in for you).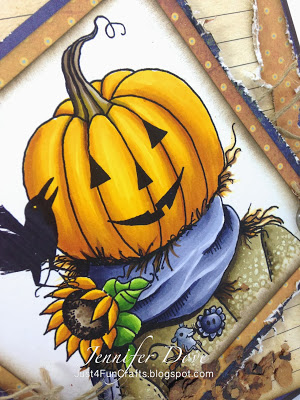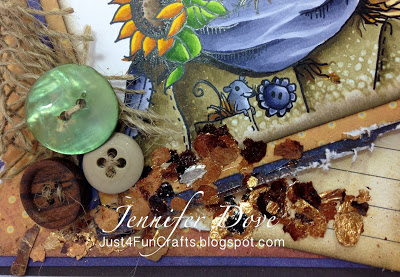 Another Wonderful image by artist Lisa Hindsley!
Copics Used:
YG03 YG17 YG67 greenery
Y19 YR24 YR27 E57 Pumpkin/sunflower
BV20 BV23 BV25 BV29 Scarf
E84 E87 E89 Jacket
6×6 tent fold
Color up the image and ink the edges. adhere to orange pattern paper and then onto purple pattern paper. distress the edges. Pop up onto a pattern piece of paper. layer using foam pop up tape onto another orange piece of pattern paper. layer onto a purple pattern paper and then onto a brown card base. Tuck burlap between the layers. thread buttons with twine and adhere to edges of image using glue dots. Using liquid adhesive add mica fragments.