History Lesson
I have to give you a little history on this. A few year or so back, I came across this blog that had challenges. I had just started getting serious about coloring. This blog gave you tutorials from different color artists, and little challenges to encourage inspiration and creativity. The DT members were OUT OF THIS WORLD. I looked forward to every challenge in hopes I was good enough to win an images so that I could play with the next challenge. With constant daily practice, I have now been deemed good enough to be on this Coloring Design Team. I feel like I have been crowned queen. I want to encourage my peeps to go take a look at the links below so that you can be a part of this group. The owner Zoe is an amazing, kind, inspirational, talented, beautiful person, and if we didn't live across the waters from each other we would be causing lots of trouble together.
Welcome to "Make It Colourful" Challenge #1
(rebirth of the challenge site)

It is with much excitement that I welcome you to join the "Make it Colourful" challenge blog kickoff. They are starting up again and i hope you will be able to join in on the fun every month and grow and expand your skills as you are challenged to pick up your coloring medium and try something new. Do not be afraid..its just paper and ink!
Each month we'll challenge you to TWO challenges. An easy challenge to wet your appetite and then a hard challenge to get you to explore new ideas and grow more confident.
I skipped the easy challenge "Orange and Black" (although I was trying to figure out how to combine them) and went straight for the hard challenge because I had never tried to create something like this I was a little trembling in my boots. For reals! The hard challenge was "Spooky Background" or "Smokey background"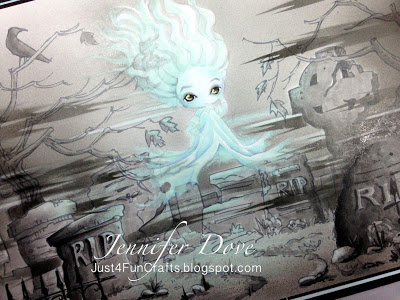 When I was contemplating my approach to the challenge I found Mini Gothilia image in the store. She wasn't a ghost but I needed to make her a ghost…that meant VERY light lines, and removing her feet….mwahahaha! But I could not have light lines on the background as it would make it very difficult to color (and time consuming)…soooooo….I took the "ghost" into photoshop (PSE) and lightened the lines, then I placed it (in photoshop) on top of the other image. Then printed it…I am not a photoshop expert, but I can tell you that .PNG files are your friends if you want to make images one on top of the other without additional work. Here is the end result of my Spooky Background.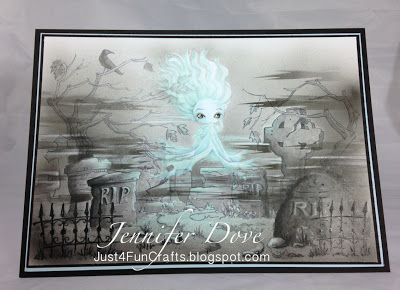 T1 T3 T5 T7 T9
BG0000 BG000 B00 BG10 BV20
Want a little more detail? The for-ground of the image was masked off and the back ground was airbrushed. I made a stencil and added dark smoke wisps…and my blended to remove some background and colored it in with the BG10. the gravestones were colored and i left white so i could add some "spooky glow" to them in the form of BG10. Miss Ghost was colored normally as well with very light colors…leaving white for highlights. I hope you don't have nightmares from this post 🙂