I am pretty happy with how these little buddies turned out. I wanted them to have the glow from the bulb reflect in their faces. This is a fabulous new Stampendous image with the new House-Mouse Designs stamp.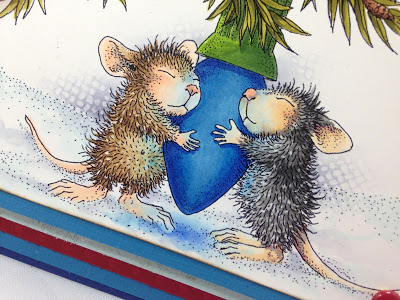 Copic's Used:
Bulb – B14 B16 B18, YG25 YG67
Skin – E00 E01 E04 BV20 R02
Skin – E50 E51 R02
Pine – YG95 YG99
Mudpie – E31 E35 E57
Monica – T4 T5 T7
Paws To Warm
6 x 6 tent fold
Color the image. ink the edges. layer onto blue card stock. add 4 brads to corners of image. Emboss using Royal blue embossing tinsel and snow flakes from the SSC1184 onto light blue paper. adhere to red and blue card stock. Wrap with ribbon and tie a bow. Using foam pop up tape attach the image to layers. Adhere to dark blue card base.