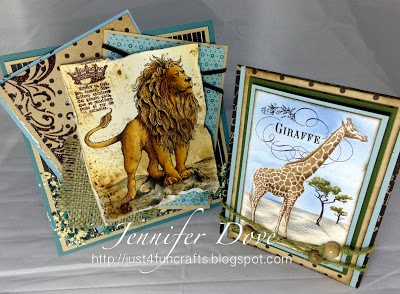 New stampendous is absolutely stunning. I used no line stamping for the giraffe and a bunch of fun elements for the Lion. More info below.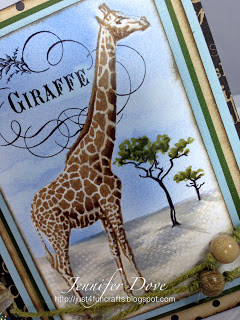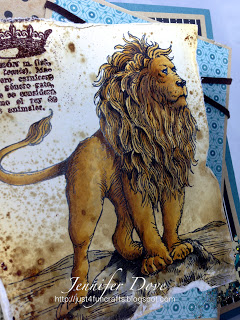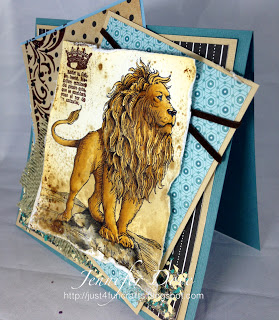 This lion is the most majestic I have seen in quite a while in a stamp. This is a 6×6 card so he is quite large and easy to color. Here are the card making instructions for him below.
Top layer – Color your image using your favorite coloring medium. Using coffee spritz distress the background (instant coffee sprinkled on a water misted paper). Cut image down to 4 x 4 3/4 and distress the edges.
Second layer – Cut pattern paper 3 1/2 x 5 and layer onto kraft card stock measuring 3 3/4 x 5 3/8. Wrap with May Arts leather ribbon.
Third layer – Cut Kraft pattern paper 4 x 5 and layer onto 4 1/4 x 5 1/4 blue card stock. Emboss using clear Bark embossing powder and a swirl from set Jumbo Hollyhock (CRS5031)
Forth layer – Cut a 5 1/2 x 5 1/2 square out of strip pattern paper and layer onto 5 3/4 x 5 3/4 Kraft card stock and then place onto a 6 x 6 teal card base (tent fold)
Assembly instructions – Using foam pop-up tape adhere lion to layer two. Tuck a little burlap between the layers. Layer these onto layer three as shown in picture. Using foam pop-up tape assemble them to the fourth layer. Using liquid glue add some Gold Halo glitter, Chiffon, Hunter, and Teal Color Fragment chips to the image and background mats.
Giraffe Savanna P193
Stamp image using a light colored stamp pad such as a gray. Color image and watch lines go away. This is called no line stamping.
Cut and layer the giraffe image onto a 3 1/4″ x 4 5/8″ pice of light blue card stock. Using foam pop-up tape place those layers onto a3 3/8 x 5 piece of green card stock. With foam pop up tap adhere this to a 3 3/4 x 5 1/2 tan piece of pattern paper. Ink edges. Adhere to a 4 x 5 1/2 piece of blue card stock and then onto a 4 1/4 x 5 1/2 piece of black pattern paper. Wrap with twine or ribbon and place onto a tan A2 card base.
P193 giraffe Savanna
R167 Lion Crown