You must have a scarecrow, tin man and a cowardly lion. Here they are all colored up. The Scarecrow would be perfect for a fall card as well. Be sure and check your local scrapbook store for these images coming really soon!!
G40 G43 G46 E40 E41 E43 E44 E49 YG23 YG24 YG03 YG17 YG67
Y11 Y15 Y26 Y28 YR24 YR27 E31 E35 E57 E79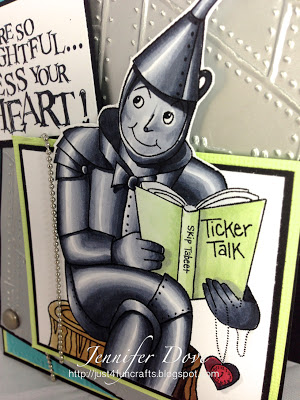 C1 C3 C5 C7 C9 100 R46 G40 G43 BV20
Instructions Tin Man:
Color Tin Man using Copics (C1 C3 C5 C7 C9 C10 G40 G43 BV20 R46 E31 E35 E57 E79)
Top Layer – Fussy Cut around top of the image leaving a 3 x 2 5/8 box around bottom portion. Layer onto a 3 1/8 x 2 3/4 black card stock. layer onto a 3 3/4 x 3 mint green card stock mat.
Second Layer – Using a embossing folder emboss a silver piece of paper. Cut to 3 1/2 x 5 1/4 and place onto a 3 5/8 x 5 3/8 black card stock mat. Place brads in all 4 corners.
Bottom Layer – Using a embossing folder emboss a teal card stock. Cut to 4 x 5 1/4 and layer onto a 4 1/8 x 5 3/8 piece of mint card stock. Place onto a black A2 (4 1/4 x 5 1/5) tent fold card base.
Cut sentiment 2 1/4 x 1 1/2 and layer onto black mat 2 3/8 x 1 5/8
Assembling – Pop up using foam pop up tape the metal layers onto card base layers. Pop up tin man layers. Wrap with chain embellishment. Adhere sentiment layers as shown in picture.
Embossing folder – Sizzix
Chain and brads – Creative Impressions
Images – Stampendous P201 Tin Man
Sentiment – Stampendous H295
Instructions Straw Man:
Top layer – Color image using your favorite coloring medium. Fussy cut around top of image leaving a 3 1/4 x 4 1/4 box. ink edges using distress ink. Layer onto a 3 3/8 x 4 3/8 black mat.
Bottom Layer – Cut pattern paper 5 1/8 x 4 and layer onto 5 1/4 x 4 1/8 black mat. Wrap with twill. Get a mint green card stock and create a A2 card base tent fold. Place layer onto card base.
Assembly – Using foam tape place image and mat onto card base layers. Stuff edge of image with Raffia as shown in picture and place a knot bow over twill wrap.
Embellishments – raffia
Twill (Creative Impressions)