I am very excited to share with you some of the latest and greatest from Stampendous, coming to your local stores in the weeks to come. If you are wondering if the store nearest you is getting the item in, just ask them and give them the item name and number.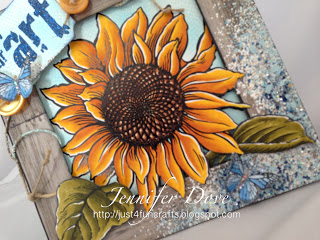 This image is a Cling Jumbo called CRS5047 Jumbo Sunflower and Stampendous added a stencil with this jumbo stamp for masking. It makes it so easy to do the backgrounds now. The sentiment is also by Stampendous. You can not go wrong with this sentiment!! I can't forget the little butterfly either.
I colored the image with my Copic markers and added it to a framed card. Before I adhered the frame to the card I added some of the NEW embossing enamel and glass glitter as well as color fragments.