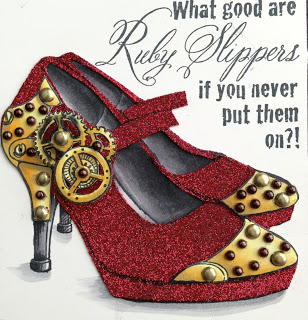 As if one pair of shoes wasn't enough Stampendous has two pairs of shoes this release. This image uses their NEW Ultra fine glitter. I spent a lot of time on this image and it is very layered. You can see the complexity of this image below.
Coloring things gold : Copics Y11 Y15 Y26 Y28
CRW091 Ruby Slippers
CRS5036 Gears
FREG042 Aged Bronze Enamel
GM251U Red ultra fine glitter
EP505 bark embossing powder
Ruby Slippers
6×6 card
Stamp image 4 times on white cardstock
first image – Cover one image with tack n peel tape and cover with glitter.
cut out inside of shoe and outside of shoe.
Second image – color inside of shoe and cut out around outside
Place glitter shoe on colored shoe with inside exposed
third image – color just metal parts of shoe, add brads, cut and place on glitter shoe
emboss gears, cut out
fourth image – emboss with bark embossing powder add some glitter to "ruby slippers"
Add all layers of shoe together and mat as shown.
Distress edges and layer card as shown