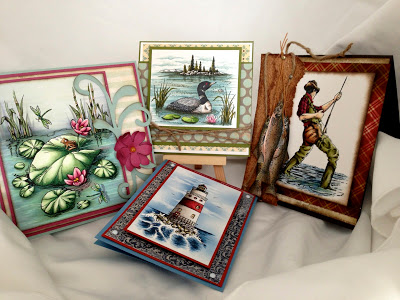 I hope you have enjoyed all the tutorials over the course of last year. I hope you are inspired and you have been able to try your own coloring skills on different images with what you have learned and your alcohol based markers.
Now let's talk a little bit about coloring water images. When coloring water, we first need to think of its characteristics. Coloring water can be fairly complex. Water is affected by its surroundings, reflections, how deep or shallow it is, and the clarity.
In this image from Makeitcrafty.com you get the feeling that it is calm water which allows for reflections within the surface of the water.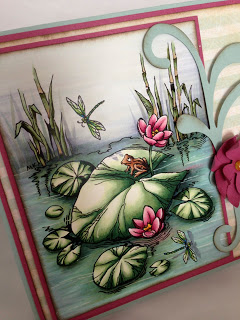 Deep water usually doesn't have underwater debris to break up the surface. It moves more slowly, leaving it
smooth in appearance. Your blending will be smooth as well. The sky and anything around the water will stand out more in the reflections.
Deep water is a deep blue color, almost black in appearance. There will be very little ripple in the water. The reflections will be more crisp.
Shallow water usually has small ripples as it moves over rocks and sand or other debris. This will cause the water to have reflections that are not solid but rather broken up amongst the ripples. You will want both light and dark reflections within the ripples. Sometimes it's easier to leave white areas and come back with the lightest marker and fill in that area using side-to-side flick blending. For shallow water you will want a slightly smoother blend. Shallow water can be a multitude of colors depending on where it's located. More shallow waters have warmer and lighter color tones. Rivers, lakes and streams grab light within the water particles and tend to be greener in appearance. The deeper the water the darker it gets. Reflections from the sky onto the water will be a darker version than the sky itself as well as the reflections from an object onto the water.
If you are coloring the water by the ocean shore, it will be a lighter and brighter blue because it is not as deep and picks up the ambient light. You will want to leave more white areas, allowing the look of foam at the wave edges. You can add this back in using opaque white. When coloring images such as an ocean scene you want to be aware that an ocean image appears darker, or more gray towards the horizon, and gets lighter the closer to the shoreline. If you are doing an underwater scene, the area closest to the ocean floor will appear darker than what is closest to the waters surface where the skylight is illuminating. Cold water and deep water appear a darker blue, where tropical or warmer waters will appear more of a brighter blue or blue-green. Murky water will have more of a gray tone.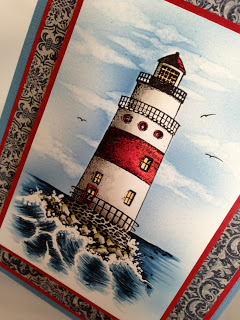 Because water is reflective, if there is an object in the water then those colors would reflect in the water more concentrated under the object and feather out once out of the shadowed areas blocking the sun. The sun not blocked by
clouds will cast brighter highlights in the water. A cloudy day would cause the water to appear darker and more of a gray tone to it, where a clear blue sky would reflect in the colors you use such as the lighter blues and greens.
Now that you have the logistics of water and how it appears, let us talk about actually getting into it.
I usually color water in long fine strokes. Overlaying the colors will blend out some of the texture you might want if your water has action. Be sure and figure out what kind of effect you want to achieve. You can add white back into the water with a white gel pen or Opaque white. Be sure this is your last step, as you can't color over these products without ruining your pen nib. Get out your colors and try your hand at coloring images with water.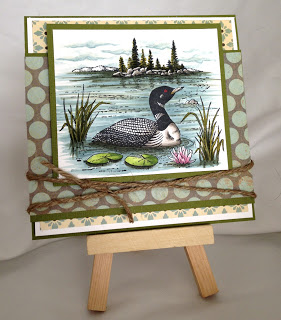 Annie's has an online video coloring class which will take you through all the basics of coloring with Copics. The class is downloadable and uses images from Stampendous, Talkabout Impressions, Make It Crafty, Crafters Companion, and DoodleDragon Studios. For more information on this class, click HERE