It's Jumbo Blog Hop Time!! Are you ready for some BIG stuff?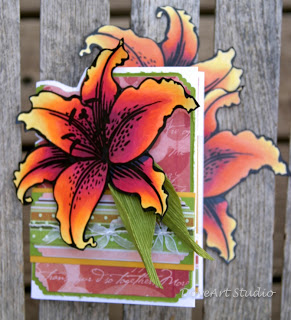 This
Stampendous
Blog Hop is featuring the NEWEST, LATEST and GREATEST Jumbo Cling Rubber Flower Stamps
These stamps are so easy to use. Just put these foam mounted Jumbo stamps on one of Stampendous jumbo clear blocks and stamp with crisp images every time. I have even stamped on my walls with them. You can use them to make cards, layouts, home decor. They are just THAT versatile! See all the hop info below, but before you go to all the happy places or is that Hoppy places along the way…
Here are the instructions I worked up so you can make this card too.
2. Cut a 5.5 x 12 piece of cardstock (I used white)
3. Score and cut according to my little sample below (Score at 4″, 6″ (with space), 8″ and 10″)
and Cut at 1 1/2″ and 4″ between the 4″ and 10″ score mark
4. Cut pattern paper approximately (1) 1 3/4″ x 5 1/4″, (1) 4″ x 5 1/2″, (6) 1 1/4″ x 1 3/4″, (1) 2 1/4 x 3 3/4,
5. You can make layers by changing the measurements by a 1/4″ smaller.
Now for all the details on the hop…cause you know you wanna win some of these amazing Cling Jumbo Stamps.

Prizes: Giving away 2 of each of the three NEW sets, and each will come with a Jumbo Handle
Just leave a comment between Saturday, June 11th through Wednesday, June 15th on EVERY participant's blog!! You might want to make sure your first name and last initial is in the comment so we don't confuse you with someone else.
Winner will be announced on Friday, June 17th
I am the very last one on the Hop but the list is below just incase you got side-tracked along the way.
HOP STOPS!