I was playing with my markers yesterday coloring up Gerry Giraffe and thought that I would just turn it into a step-by-step tutorial seeing as all of you enjoyed the last one. So here is Gerry. You can buy your image HERE for $1.50 and follow along. Copics used: E57, E35, E33, B97, B95, B93, YG67, W3. Print your image on Copic compatible paper (laser printer recommended).
Lets get the play time started!!
Starting off with my lightest color brown E33, I marked the area where I wish to leave it the lightest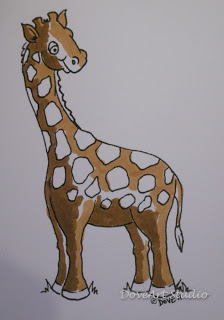 Now take your darkest color E57 and mark the area you wish to be the shadowed area
Add in the medium brown E35, slightly overlapping the darkest area, blending as you go.
Take your lightest brown, E33, and slightly overlap the medium color and blend out. Sometimes if I want it really dark I will repeat the process…i find it gives a nicer blend.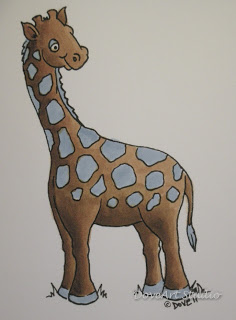 It's time to get out the blue's. Get your lightest blue (B93) and color everywhere that will be blue…color enough to leave the area nice and juicy wet. I recommend you work each spot that will be blue individually, not color all the blue at once. This leaves it wet while you work. (so don't do it like I show…this is more for a visual)
Now take your darkest blue (B97) and color the area that will be the shadow…mine is all on the left sides of each area)
Taking your medium Blue (B95) slightly overlap the dark and blend)…don't go too far out or you wont have room for the lightest color next.
Now we take the lightest again and blend in the medium.
I added a little dark, medium, light blue back in again for "pop"
now add your shadow with W3 and a little grass and you are done!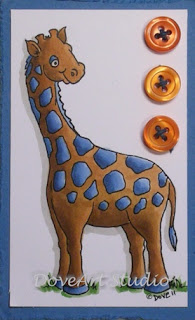 Thank you for joining me again for some play time.
Jenn Dove
PS. Quote sentiment by Stampendous