Doodle Dragon is giving an image to the winner! What are you waiting for? Don't be left out!
Its time to make a card for the MASCULINE challenge, you can do that right? Using Dustin's image just make a card and post it to the challenge blog and you could win!
Here is my card…oh isn't he spooky in a weird, and cute way?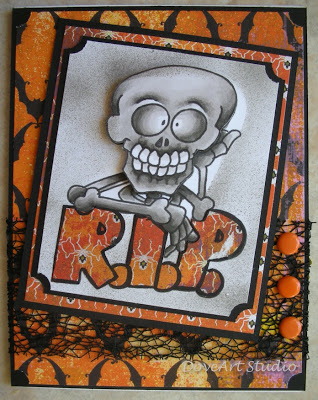 Image: R.I.P bu dustin Pike (duh)
Basic Grey Paper (almost used up this old paper)
Creative Impressions – web ribbon (a MUST for everyone), and brads
Copic: W1, W3, W5, W7, W9…OMG only 5 pens 🙂
I also used the airbrush on the background…..I used my caio pens with the airbrush system…WHAT? You heard right….when I have the airbrush technique class I will show you how.
Leave me some lovin if you are lovin my stuff 🙂
Boo to YOU!!