Okay I was payed to make a "pretty" Baby shower card. So I had so set the "Make me smile" images aside and get to work. I love the end result but couldnt wait to get back to the images by Dustin Pike…can we say Addicted!

Used Prism Cardstock, Prima flowers and bling, unknown flower source (roses), antique lace, copic markers to color image.

Card opens up and the second part hangs out.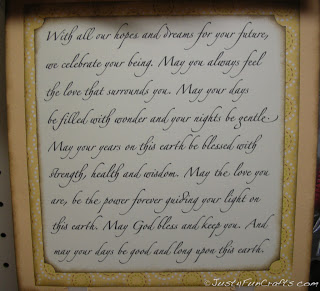 Saying Says
Prayer For A New Baby
by Officiants Nancy and Dick Weber
"With all our hopes and dreams for your future, we celebrate your being. May you always feel the love that surrounds you. May your days be filled with wonder and your nights be gentle. May your years on this earth be blessed with strength, health and wisdom. May the love you are be the power forever guiding your light on this earth. May God bless and keep you. And may your days be good and long upon this earth."