Here is a tutorial I made up. Sorry but I guess i could have had better lighting…but you will get the idea.
Supplies needed:
Vellum paper
Copic markers 2 similar shades (do not need to have these)
Scissors
mega scallop punch
Piercer
Large brad
glimmer mist or spray bottle (i used pearl glimmer mist)
Punch 5 or 6 scallop circles
color edges with copic marker (or not)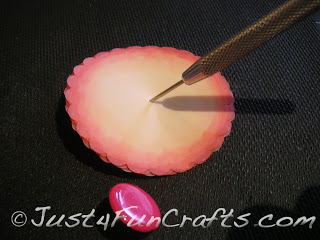 lay together all circles and pierce a hole through center and insert brad
cut slits all around circle
fold up each "petal"
spray with glimmer mist (or water) and watch petals curl
That's it…of course you can use any size scalloped circle and get the same result…just different sizes. Stay tuned to see the project i am working on with these roses!